Australian Hip and Groin Clinic
Have you injured your hip or groin?​
Are you suffering with pain that is keeping you up at night or causing reduced hip movement and function?
We can help. Our physiotherapists at Australian Sports Physiotherapy have considerable experience and research publications to aid their diagnosis and rehabilitation of hip and groin pathology.
Some of these pathologies include:
Acetabular labral tears
Femoro- acetabular Impingement Syndrome (FAIs)​
Ligamentum Teres tear​
Acetabular labral tears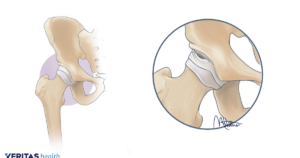 The Acetabular labrum is a gasket like cartilage structure (imagine the seal on your fridge door) that lines the outer rim of your hip socket. The labrum not only provides stability for the joint via its suction seal, but also dissipates the pressure of each of your steps over the hip joint; helping you preserve the health of your cartilage and avoiding the development of osteoarthritis.Tears of the labrum can be divided into two main categories including acute or sudden traumatic injury, and chronic conditions that can lead to the fraying and degeneration of the labrum over time.Because of tears, hip pain and dysfunction commonly follows (but not all labral tears cause pain). Pain can manifest in the groin (front of the hip), or radiate to the side of the hip and buttocks. Labral tears most commonly occur in association with other bony pathologies such as Femcoro- acetabular Impingement Syndrome (FAIs). The diagnosis of labral tears can be confirmed with an MRI.
Click here to find out more on our specialised Rehabilitation Program.
Femoro- acetabular Impingement Syndrome (FAIs)​
Ligamentum Teres tear​
How can the Australian Hip and Groin Clinic help you?
At Australian Sports Physiotherapy, our experienced physiotherapists specialise in the diagnosis, management and rehabilitation of all your hip and groin injuries.
Our physiotherapists will diagnose and offer you expert advice on the best course of treatment, and this may depend on your symptoms and imaging. Conservative care may involve education and lifestyle and activity modifications.
Physiotherapy led rehabilitation aims to improve your hip stability, neuromuscular control, strength, range of motion and restore your normal movement patterns.
Arthroscopic Surgery Rehabilitation
Arthroscopic surgery aims to improve the hip joint morphology and repair damaged tissue. Ultimately, good management may require the use of all these various approaches.
Extra information and references:
Hip Arthroscopy Australia, 2018, Hip Pain, viewed on April 14th 2020 https://hiparthroscopyaustralia.com.au/hip-pain/
Griffin, D. R., Dickenson, E. J., O'Donnell, J., Awan, T., Beck, M., Clohisy, J. C., ... & Hölmich, P. (2016). The Warwick Agreement on femoroacetabular impingement syndrome (FAI syndrome): an international consensus statement. British journal of sports medicine, 50(19), 1169-1176.>
Across eight locations in Melbourne