Patellofemoral pain syndrome (PFPS) is a common condition that affects the knee joint. It is characterised by pain around or behind the kneecap, which can be aggravated by running, jumping, and climbing stairs.
Fortunately, physiotherapy for PFPS has been clinically proven to relieve these pains and improve the affected area's flexibility and strength.
With targeted exercises, stretching techniques and manual therapies explicitly tailored to your needs, we'll help ensure that your PFPS symptoms don't hold you back from living an active lifestyle!
What is patellofemoral pain syndrome?
Patellofemoral pain syndrome accounts for 25%- 40% of all knee disorders. This common knee condition causes pain in the front of the knee, under, and around the kneecap.
Runners, cyclists, athletes, office workers, and those who sit for long periods are frequently affected.
It is also common in athletes who have suddenly increased their workout intensity or are performing activities with poor form.
Common causes of patellofemoral pain syndrome
The kneecap's improper alignment as it moves over the knee joint below causes this condition.
Muscle imbalances commonly cause patellofemoral pain syndrome in the various muscle groups attached to the patella. Your quadriceps muscle group comprises four different muscles that all attach to the patella and exert slightly different vectors of force through the patella.
Contributing factors to PFPS include:
Thigh muscle weakness, particularly the quadriceps, which control patella movement and stabilise and align the leg.

Specialising in a single sport that requires repetitive movements;

Hip and knee movement patterns while running and jumping;

Activities such as running, squatting, and going up and down stairs; and

Women due to the anatomical structure of women's legs, women are twice as likely as men to suffer from PFPS.
Common symptoms of patellofemoral pain syndrome
When participating in weight-bearing activities, you may experience pain in and around your kneecap (running, jumping, squatting, or going up or down stairs).
Pain that worsens with prolonged sitting or descending stairs or excruciating pain when squatting.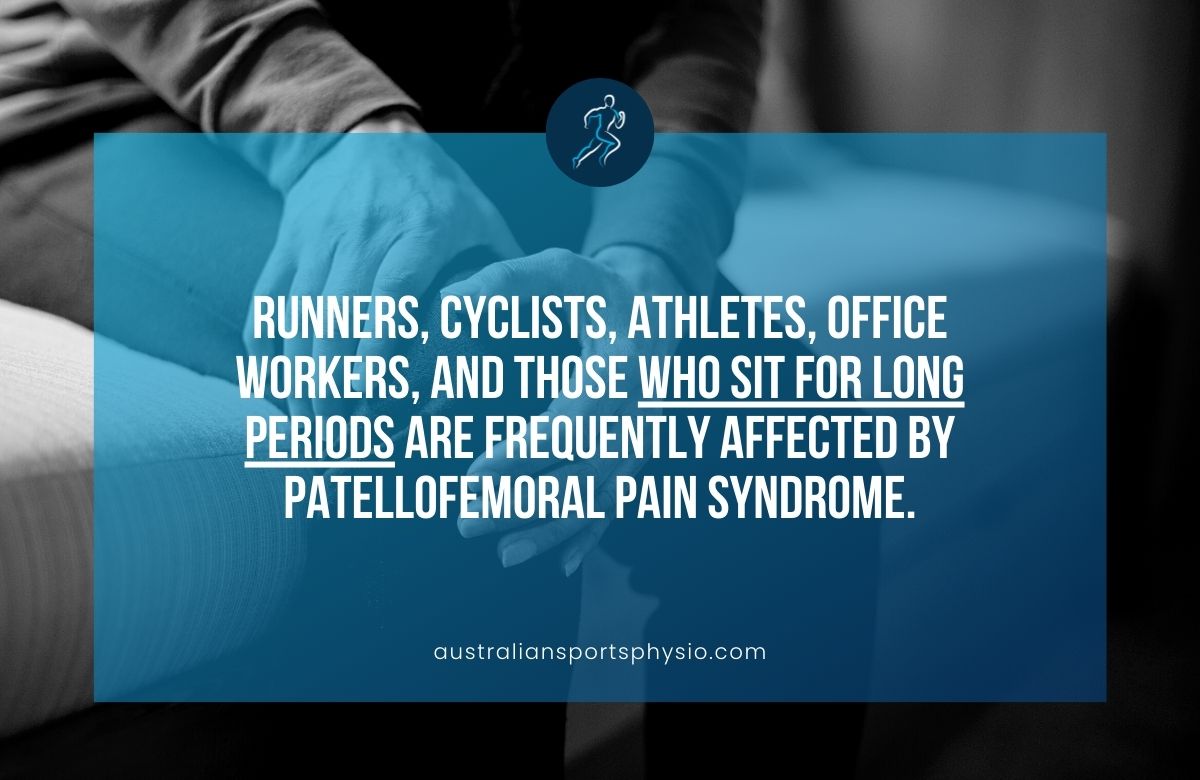 Physiotherapy knee examination
There is no one particular structural cause of patellofemoral pain aside from abnormal loading of the patellofemoral joint. Typically, we observe deficiencies in the kinetic chain from your foot up to your hip.
These deficiencies will affect the loading on the patellofemoral joint and may be a factor in your discomfort. Therefore, it is crucial to be evaluated by a qualified physiotherapist if you have patellofemoral pain to determine which deficits are present.
Your physiotherapist may examine the following factors as part of your physical evaluation:
Flexibility, strength, and endurance of the muscles surrounding the ankle, knee, and hip, such as the glutes, quads, and calves.

Your ability to do functional movements like squats and stairs.

Foot and hip posture, as well as biomechanics.

Ankle, knee, and hip range of motion.

Your kneecap's position and size.
Physiotherapy treatment for patellofemoral pain syndrome
A customised exercise rehabilitation programme based on a knee examination can address and treat patellofemoral pain.
Physiotherapy involves performing specific strengthening exercises for the hip, quadriceps, and knee muscles and ligaments to reduce pain and improve functional performance. Treatment starts with non-weight-bearing exercises and progresses to weight-bearing exercises.
Patient education on load management, cross-training, running form, and exercise progression to avoid overworking the knee.
Kinesiotaping: Used for temporary pain relief and to support proper kneecap alignment during movement.
Manual therapy: Used to relieve pain by stretching tight ligaments and muscles around the kneecap and thigh to improve mobility and allow for proper kneecap alignment.
Foot orthotics: If foot abnormalities are causing patellofemoral pain, foot orthotics can help with proper leg and kneecap alignment and gait.
Gait and movement pattern training: To address any compensatory movement patterns that aggravate knee pain and retrain for proper biomechanics when walking and running.
Core strengthening training: Exercises to strengthen trunk muscles to support overall body movement and relieve pressure on the patellofemoral joint.
Coordination training: Retraining hip and knee movement patterns, particularly when climbing stairs, squatting, running, and jumping.
Will patellofemoral pain ever go away?
People experiencing patellofemoral pain should seek physiotherapy treatment because it typically does not resolve without it. Patellofemoral pain recovery can be lengthy, lasting 6 weeks or more. Sports activities that strain the knee highly should be resumed slowly and cautiously to avoid further injury.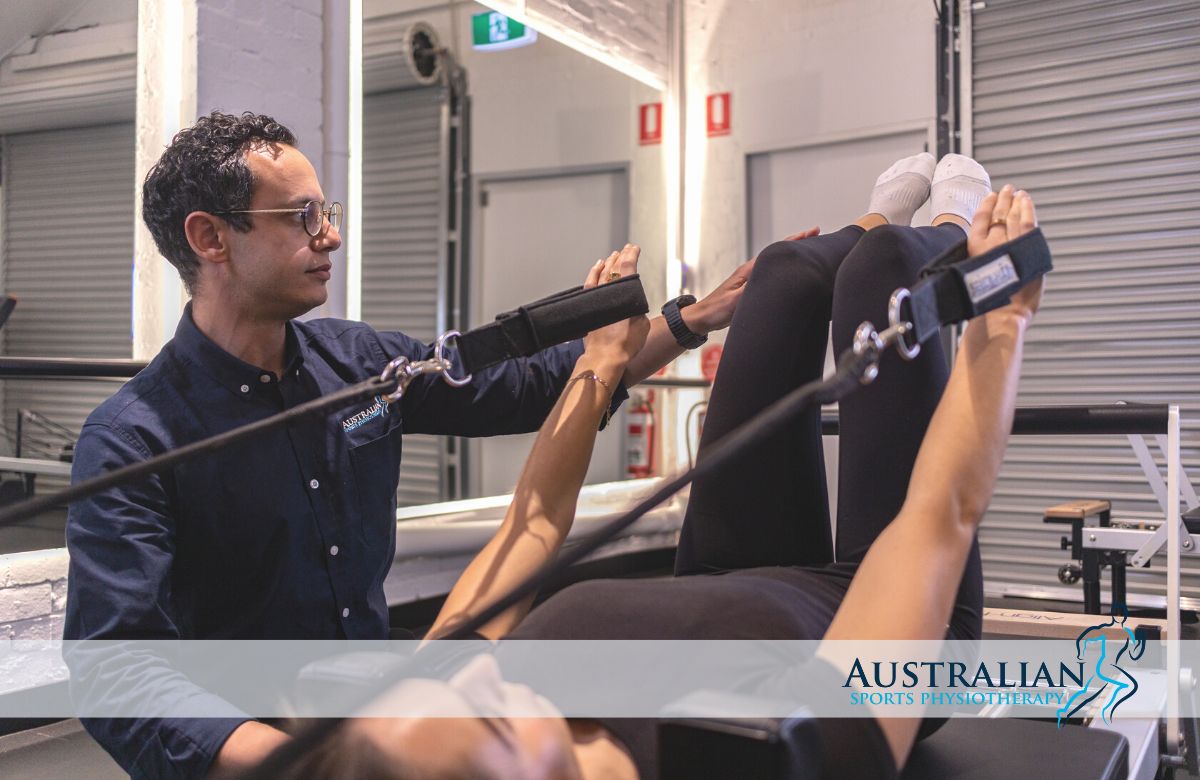 Final thoughts on physiotherapy for patellofemoral pain syndrome
Overall, physiotherapy is an effective treatment for patellofemoral pain syndrome. It can help to reduce pain, improve function, and prevent further injury.
Working with a qualified physiotherapist who can assess your condition and develop an individualised treatment plan tailored to your needs is essential.
Patellofemoral pain syndrome can limit your daily activities and ability to participate fully in your sport. Don't delay treating patellofemoral pain syndrome; join forces with a qualified physiotherapist to alleviate your pain and return you to your activities with increased mobility and strength!
Book an appointment with one of our experienced physiotherapists today for a comprehensive assessment and customised treatment plan.