The shoulder joints are one of the most-used parts of the body, which is why it has a high risk for injury. Shoulder sprains are common injuries that often occur during sports or other daily activities. 
The repetitive movements required to complete these everyday activities can harm the shoulder, cause inflammation, pain and limit shoulder joint movement. Living with shoulder pain can be incapacitating, so getting a diagnosis as soon as possible is critical so that a physiotherapy treatment and rehabilitation plan can be put in place.
Physiotherapy can, however, help relieve symptoms and prevent further injury.
What is the difference between a sprain and a strain?
Tendons connect bones to muscles, while ligaments connect bones within a joint. When you sprain your shoulder, you are tearing or overstretching a ligament. You are tearing or overstretching a tendon when you suffer from a strain.
Sprains and strains can both be effectively treated with physiotherapy.
What is a shoulder injury?
You may have a shoulder injury if you experience severe shoulder or neck pain after a workout or a series of long days seated with bad posture. Shoulder pain can be caused by the neck yet be felt around the shoulder.
Such injuries can vary significantly from person to person, but the following are the most common types of shoulder injuries:
Bruises.

Injured nerves.

Muscle strain.

Muscle sprain.

Arthritis of the shoulder, often osteoarthritis caused by wear and tear.

Shoulder impingement: When one or more tendons in the shoulder joint are pinched, it commonly occurs during overhead movements.

Rotator cuff tears: A tear in one of the four muscles that comprise the rotator cuff – supraspinatus, infraspinatus, subscapularis, and teres minor.

Labrum tears: The labrum can tear in several ways: 1) completely off the bone, 2) within or along the labrum's edge, or 3) where the bicep tendon attaches.
Frozen shoulder: Chronic shoulder pain and stiffness that worsens over time until the shoulder can hardly move.

Dislocated shoulder: When the head of the humerus bone is pushed out of the shoulder socket.

Tendinitis: Inflammation of the tendons.

Separation: Torn ligaments between the collarbone and the shoulder blade.

Shoulder bursitis: Inflammation of the fluid sac cushions that lubricates the shoulder joint.

Fractures: A fracture that runs through part or all of the bone, usually involving the upper arm bone or collarbone.
Common symptoms of a shoulder injury
The humerus (arm bone), scapula (shoulder blade), and clavicle (collar bone) constitute the shoulder. It is surrounded by many ligaments and muscles that support and influence the range of movement of the shoulder. Our shoulder joints are highly mobile, but this also means they are less stable and more prone to injury than other joints in the body.
Changes in skin temperature or colour, pain, swelling, numbness, tingling and changes in the range of motion in this part of the body are all signs of a shoulder injury.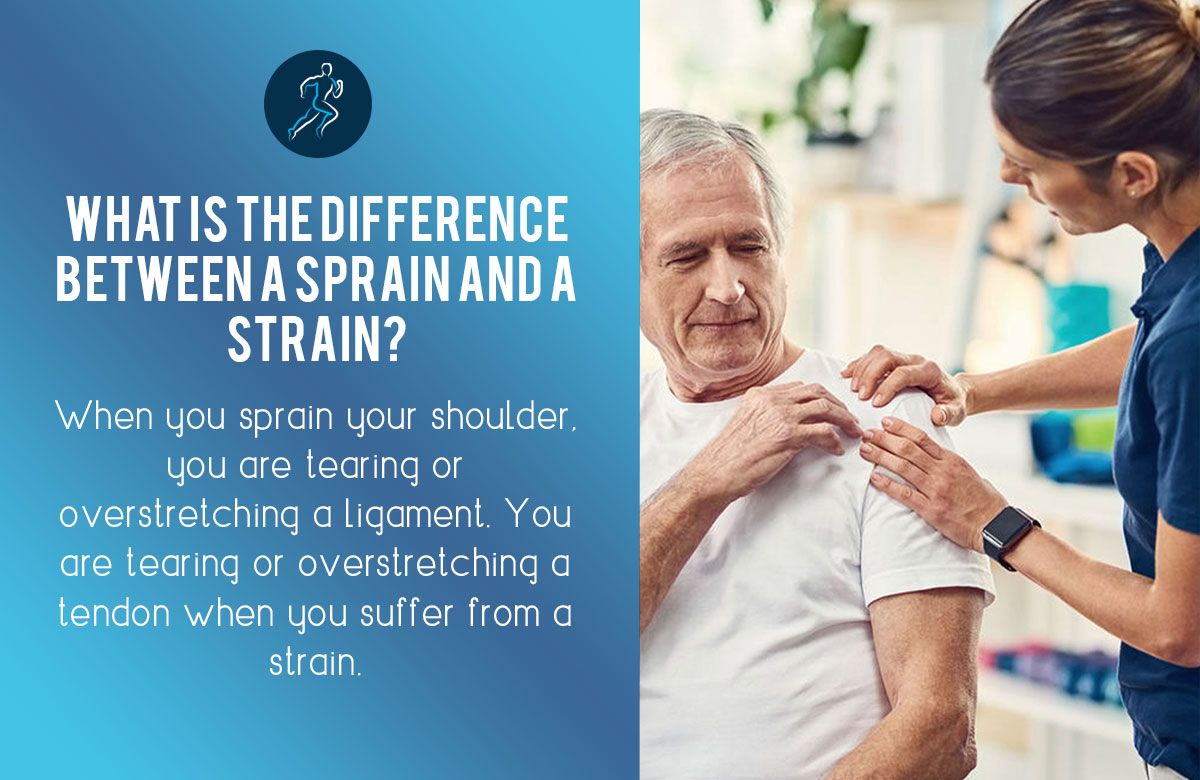 What is the fastest way to heal a sprained shoulder?
The fastest way to heal a sprained shoulder is to consult with a physiotherapist. Physiotherapy for a sprained shoulder will focus on regaining muscle strength and control to support the shoulder better.
Your physiotherapist will evaluate your strength and biomechanics to create an exercise program tailored to your needs. The program will include exercises for strength, stability, and endurance.
How physiotherapy can help with shoulder pain and injuries
Physiotherapy for shoulder pain is often a successful, non-surgical treatment for rotator cuff tears or other injuries to the muscles surrounding the shoulder. Its goal is to strengthen the muscles surrounding your shoulder blade to improve its function and joint mobilisation.
The physiotherapy treatment will be tailored to your specific needs to help you recover from your injury and regain mobility for everyday activities. Your therapist may also advise you to modify your daily activities to support your shoulders better and avoid re-injury. You may also be given personalised home rehabilitation exercises to help maintain your strength and range of motion after your therapy sessions.
In some cases, physiotherapy treatment can avoid the need for surgery, which is especially beneficial for older adults who may not have as good a surgical success rate. 
Physiotherapy for shoulder injuries as a treatment strategy is adequate for most patients, though the length of recovery varies from person to person.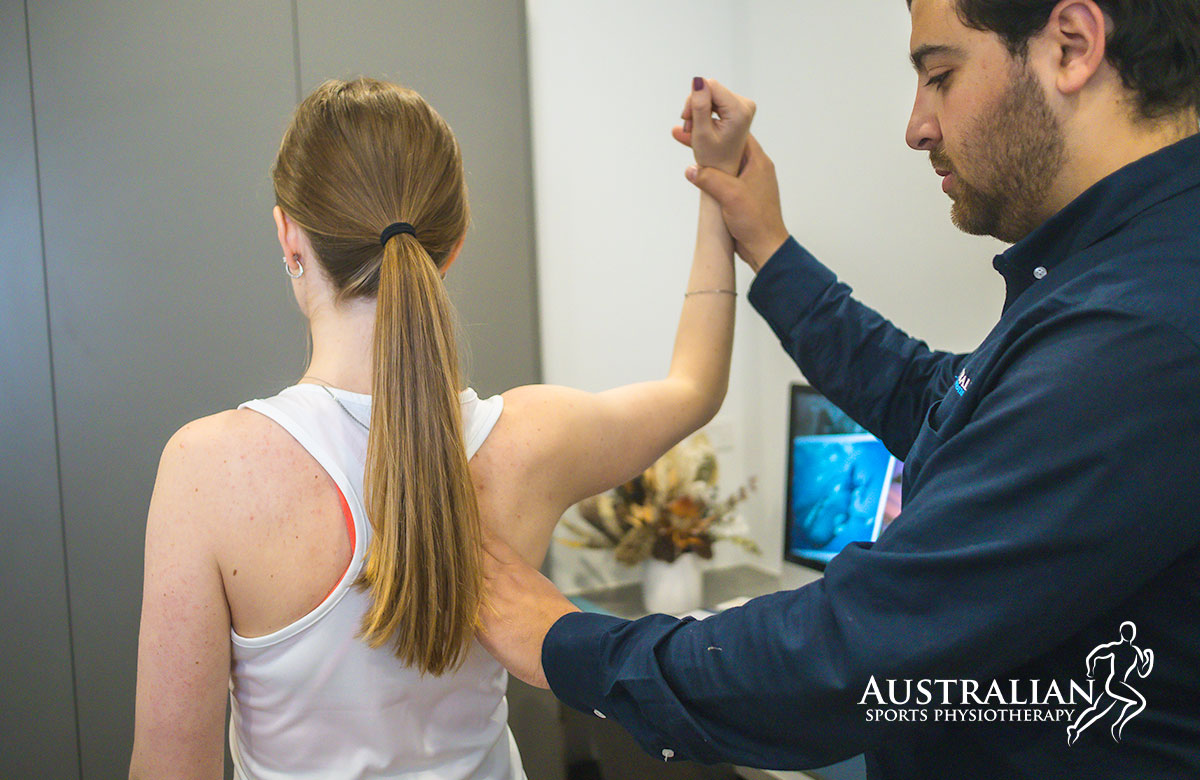 Final Thoughts on Shoulder Sprains
A physiotherapist should always carefully assess any shoulder injury and prescribe treatment based on their conclusions. Since each case is unique, seek expert and personalised advice regarding any shoulder pain you may have.
Even when surgery is unavoidable, physiotherapy is an excellent way to prepare and strengthen the body before surgery and assist in shoulder rehabilitation after surgery.
Our trusted shoulder physiotherapists at Australian Sports Physiotherapy have the expertise to assess, diagnose and rehabilitate shoulder injuries. 
Book an appointment with one of our experienced physiotherapists today for a comprehensive assessment and customised treatment plan.