Physiotherapy may be the answer for you if you're one of the many sufferings from frozen shoulder. Frozen shoulder, also known as adhesive capsulitis, is a condition that affects the shoulder joint and can cause tremendous pain and discomfort.
Fortunately, physiotherapy is an effective treatment for frozen shoulders and can help to relieve pain and restore mobility to the joint.
Physiotherapists specialise in movement. They enhance people's lives by providing hands-on care, patient education, and prescribed movement.
If you're considering physiotherapy for your frozen shoulder, here's what you need to know.
What is frozen shoulder?
The shoulder capsule thickens and becomes stiff and tight in a frozen shoulder. Adhesions, which are thick bands of tissue, form. In many cases, the joint has less synovial fluid.
This condition is distinguished by severe pain and the inability to move your shoulder on your own or with the assistance of another person.
A frozen shoulder is frequently mistaken for a rotator cuff injury. They are, however, very different and require different treatments. A frozen shoulder is characterised by severe shoulder pain, loss of shoulder function, and stiffness.
The 3 stages of frozen shoulder 
Frozen shoulder symptoms can be classified into three stages: freezing, frozen, and thawing.
Stage 1: Freezing phase
You will experience severe shoulder pain and stiffness in this early stage of a frozen shoulder. To compare it to a freezing ice cube, this is the stage at which your shoulder starts to freeze and solidify.
The first stage of a frozen shoulder can last anywhere from 3 to 9 months. Although this is a long period of suffering, aggressive treatments are not advised at this time. During this painful period, pain relief treatments such as anti-inflammatory medication will be your best bet.
Stage 2: Frozen phase
Your shoulder will be the stiffest during the frozen stage. The transition from stage 1 to stage 2 can be painful, but the most noticeable feature of stage 2 is the inability to move your shoulder until the pain subsides in late stage 2.
The second stage of frozen shoulder can last anywhere from 9 to 15 months. In stage 2, physiotherapy can be extremely beneficial in improving your range of motion with a frozen shoulder, while pain relief treatment can usually be discontinued.
Stage 3: Thawing phase
The thawing stage is the third stage of a frozen shoulder. Using the ice cube analogy, stage 3 refers to your stiffness and pain gradually melting away. The range of motion in your shoulder will gradually return, and your frozen shoulder will "thaw."
The thawing phase can last anywhere from 15 to 24 months, with physiotherapy being the most effective treatment during stage 3.
Going through all three stages of a frozen shoulder can take about 30 months on average. However, in the later stages, physiotherapy can help to accelerate the process.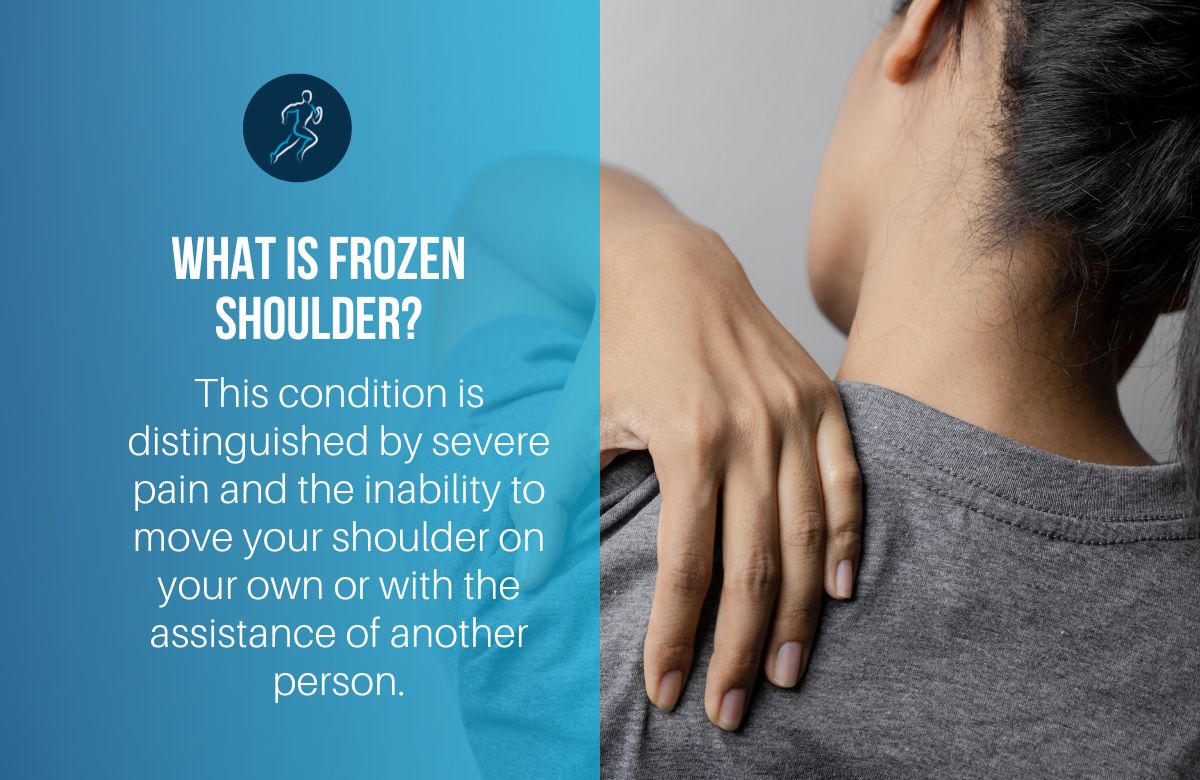 Common symptoms of frozen shoulder
Severe pain and stiffness are the most common symptoms of a frozen shoulder. Night pain is common, making sleeping difficult, especially on the affected side.
There is also a significant decrease in both the passive and active range of motion, particularly in external rotation and hand behind-back motion. These symptoms cause limitations in activity and participation.
Activities such as reaching out and putting your hand behind your back to scratch or undo your bra strap can become increasingly difficult.
X-rays appear normal but are used to rule out more serious conditions like fractures, avascular necrosis, locked dislocations, arthritis, or osteosarcomas. Ultrasound or MRI imaging can be used to confirm a frozen shoulder diagnosis.
Frozen shoulder physiotherapy treatment
As briefly mentioned above, frozen shoulder treatment varies according to the stage.
During the freezing stage, your primary treatment will be pain relief, which may include medication or corticosteroid injections. You should also take precautions at this stage to avoid worsening the situation.
Gentle and very specific periarthritis shoulder exercises are the best treatment plan in the frozen stage. Because overdoing it can aggravate your frozen shoulder, it's critical that you work with a physiotherapist during this stage.
Certain massage treatments (also performed by your physio) may be beneficial as a treatment option for a frozen shoulder in the frozen stage.
Your best treatment options during the thawing stage are shoulder mobilisation and strengthening exercises. Again, it's critical to work with a physiotherapist to ensure that you're progressing safely towards recovery.
Working with a physiotherapist for a frozen shoulder has been shown to significantly accelerate recovery.
In conjunction with physiotherapy, a hydrodilatation injection can be utilised to stretch the shoulder capsule with fluid, allowing for the physiotherapy treatments to be more effective.
Shoulder surgery is an additional treatment option for a frozen shoulder that cannot be treated with physiotherapy. However, physiotherapy is frequently required during the recovery phase of post-capsular surgery for a frozen shoulder.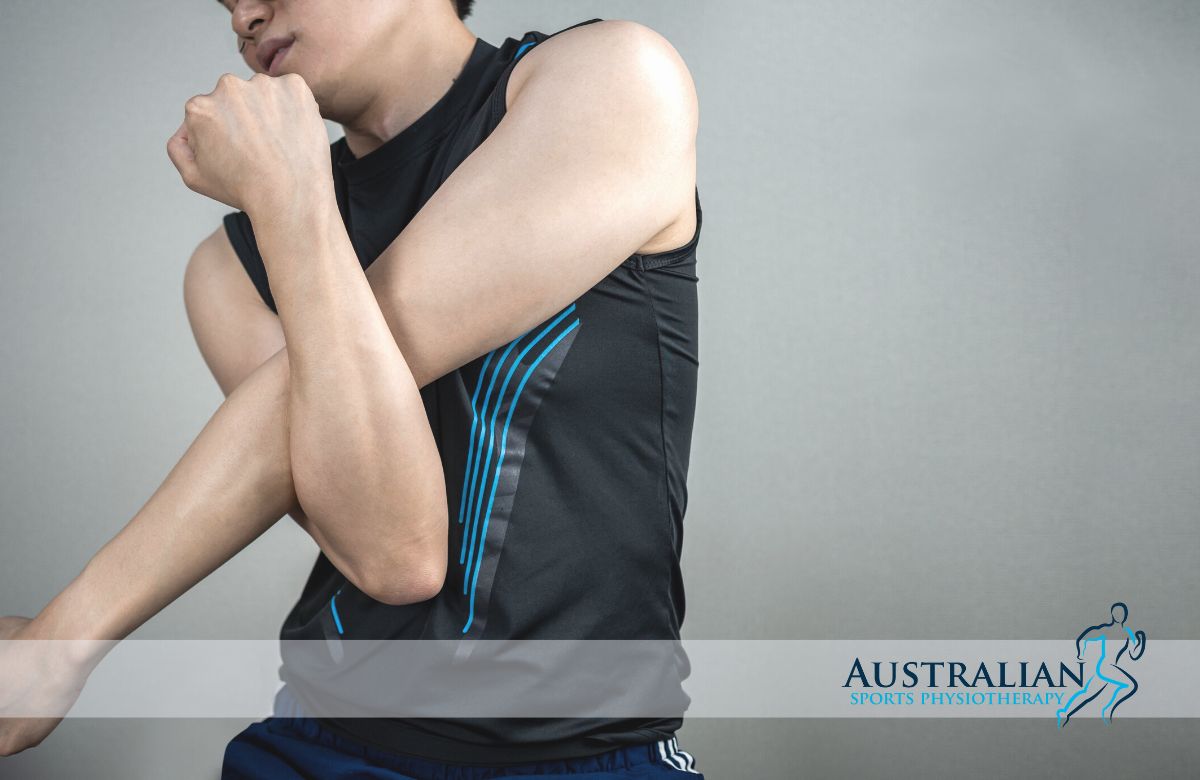 Final thoughts on physiotherapy for frozen shoulder
Not moving a shoulder while recovering from a shoulder injury, broken arm, or stroke is one of the most common causes of a frozen shoulder.
If you've had an injury that makes moving your shoulder difficult, talk to one of our physiotherapists about exercises that can help you maintain your ability to move your shoulder joint.
Book an appointment with one of our experienced physiotherapists today for a comprehensive assessment and customised treatment plan.