Achilles tendinopathy is a common problem affecting athletes and non-athletes alike. 
Tendons connect muscle groups to bones, allowing us to move our limbs. They also provide stability to joints, such as the ankle or knee. When they become injured, they can cause problems.
There are several treatment options for Achilles tendinopathy, ranging from rest to less commonly surgery. Physiotherapists can play an essential role in helping patients manage their symptoms and return to normal activities.
What is Achilles tendinopathy?
Your Achilles tendon is your body's thickest and most powerful tendon. It connects your calf muscle to your heel bone, allowing you to move your foot as you walk, climb, jump and run.
Achilles tendinopathy is an injury to the Achilles tendon. Achilles tendinopathy is typically caused by overuse and chronic stress on the tendon. An Achilles tendon tear could also cause it.
Achilles Tendinopathy can occur due to a single trauma or repeated microtrauma, with the latter being the more common cause. These injuries can be exacerbated by a lack of flexibility or a stiff Achilles tendon. This condition is distinguished by pain behind the heel, swelling behind the ankle, calf stiffness, often worse in the morning, and limitations in walking, running, and jumping.
What is the difference between Achilles tendonitis and Achilles tendinopathy?
Achilles tendinopathy is sometimes incorrectly called Achilles tendonitis. While the symptoms are nearly identical, they are not the same condition. Tendinopathy is caused by a breakdown of the collagen protein that makes up the tendon. Tendonitis, on the other hand, is caused by tendon inflammation.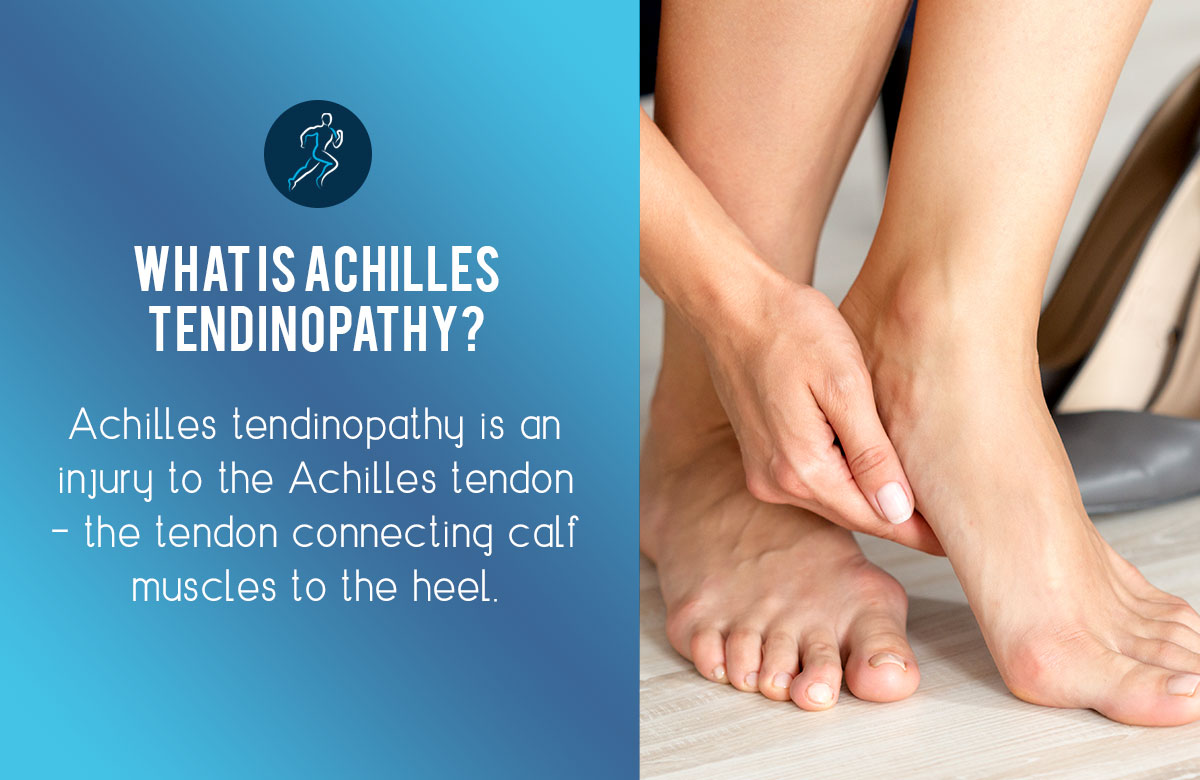 Common symptoms of Achilles tendinopathy
Heel pain

– This could be an ache or a sharp pain that worsens when you move or put pressure on it.

Tendon stiffness

– This is often worse first thing in the morning or after a period of rest.

Your

ankle is swollen

at the back.

When you touch your tendon, you will

feel tenderness

.

When you move your ankle, you may hear a grating noise or

feel a creaking sensation

(crepitus).
You may have torn your tendon if you experience sudden pain in your heel or calf. This is referred to as an Achilles tendon rupture. You might hear it snap and have difficulty bearing weight on your leg. If this occurs, seek immediate medical attention.
Which treatment is most effective for patients with Achilles tendinopathy?
Your physiotherapist should always guide you through an exercise program and activity modification for Achilles tendinopathy treatment. This program will cover all movement types, from stationary to fast, short to long, light to heavy, and isolated to functional.
Complementary treatments such as massage, orthotics, joint mobilisation, electrotherapy or dry needling may also be utilised as a part of your physiotherapy rehabilitation program.
Achilles tendinopathy diagnosis
Your physiotherapist will review your medical history with you and thoroughly examine your heel, ankle and calf, assessing your foot posture, flexibility, strength, and movement. This process may include observing you standing in a relaxed stance, walking, squatting, stepping onto a step, or performing a heel raise. Other parts of your leg's motion and strength will also be evaluated.
Your physiotherapist may also enquire about your daily activities, exercise routines and footwear to identify other factors contributing to your condition.
Imaging techniques such as MRI are often used in assessing the severity of the Achilles tendinopathy.
How long does Achilles tendinopathy last?
There are several stages of tendinopathy rehabilitation which can take weeks or even months to heal. Most people's pain and movement improve after 12 weeks of physiotherapy exercises. While some people need complementary treatments (as mentioned above).
Recovery depends on how severe the injury is, how much activity you want to resume, and how responsive the tissue is to the pain.
How to avoid Achilles tendinopathy
Use the proper equipment and movement techniques, whether you're active at work or in sports.

If you have underlying health issues that put you at risk, ensure they are addressed.

Wear appropriate, well-padded and well-fitting shoes when running or participating in other activities.

If you have a problem with the shape of your foot or how you walk, wearing orthotics in each shoe may help.

Build up new activities gradually. It would be best to increase your activities' intensity, load and duration gradually.

Maintain a healthy weight since being overweight increases your risk of Achilles tendinopathy.

Reduce repetitive motions that put a strain on your tendon.

Warm up thoroughly before beginning your workout, and stretch your calf muscles afterwards.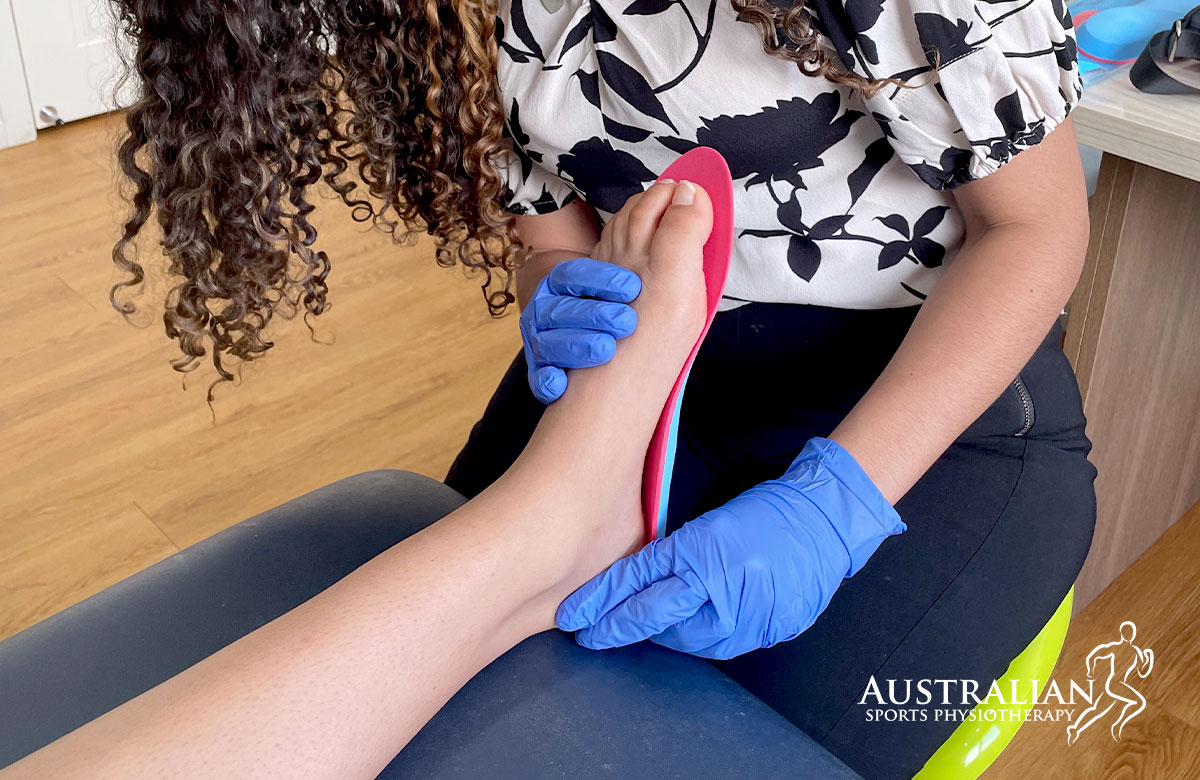 Final thoughts on Physiotherapy For Achilles Tendinopathy
Physiotherapy is an effective treatment for Achilles tendinopathy and can help reduce pain and improve your flexibility and range of motion.
If you're suffering from this condition, don't despair – physiotherapy can help you get back to feeling like yourself again!
Book an appointment with one of our experienced physiotherapists today for a comprehensive assessment and customised treatment plan.