The world of professional sport is not an easy one. Players are expected to perform at their peak and be ready for anything, all the time – and that is before we even mention the physical toll it can take on your body. 
With this in mind, the physiotherapists at Ivanhoe Physiotherapy have had the opportunity to team up with some of the most famous athletes worldwide.
Through this experience, Australian Sports Physiotherapy are here to help educate patients on how they might benefit from seeing a physio. 
Whether you play or watch any sport, physiotherapists can offer expertise in prevention, diagnosis and treatment so that injuries do not end up ruining your favourite pastime.
When a player cramps up, sprains their muscle or falls awkwardly in the game, there is always a physio nearby to assess and help them recover.
Why physiotherapy?
Physiotherapists play an integral role in the professional sporting world, rehabilitating injured athletes and helping to prevent injuries in the first place.
Even if you are not a professional athlete, your body is still subject to the same strains and pressures as the pros when you play sport – so shouldn't you have a physio in your life too?
Two of the most important ways a physio can help you if you play sports
1. Recovery from Injury and Pain Relief
Physiotherapists are highly trained in understanding how various joints, muscles and nerves interact with each other within the human body.
This deeper understanding allows physiotherapists to think outside the box to better localise your cause of pain and dysfunction, and provide you with a plan to restore as much functionalist as possible.
Physiotherapists use a variety of techniques to help relieve pain and discomfort, including:
Assessment, observation and diagnostic

Physiotherapy Taping

Physiotherapy Exercises
2. Reduce Injury Risk
While many people will consult a sports physio AFTER they suffer an injury, the best time to see a sports physio is when you're still 100 per cent fit and injury-free!
That's because sports physios can help you to avoid injury in the first place.
How so?  When you see a physio, they'll conduct a thorough assessment, and as part of this process, they can:
Identify areas of irritation and dysfunction.

Help you overcome areas of weakness by providing you with strengthening and flexibility exercises specific to your needs.

Advise you on an appropriate workout plan to best complement your strength, gait, and the types of sports you play.
Often people get injured playing sports because they fail to recognise their limitations and push their body beyond its capabilities.
Physios can help you understand where your body is and advise on how to overcome specific limitations, thus reducing injury risks AND improving overall performance.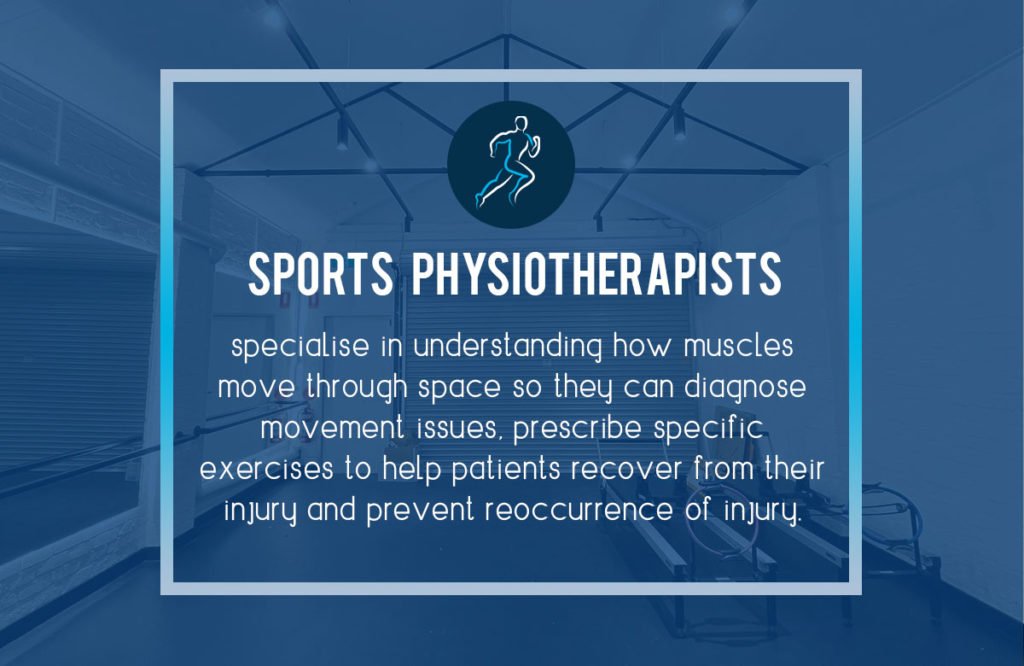 What is the difference between a sports therapist and a physiotherapist?
In Australia, Sports Physiotherapists are highly trained in the diagnosis and treatment of musculoskeletal conditions. 
Sports physiotherapy is a unique area of physiotherapy for those with interest in both rehabilitation and prevention related to sport or exercise. Sports physiotherapists specialise in understanding how muscles move through space so they can diagnose movement issues, prescribe specific exercises to help patients recover from their injury and prevent reoccurrence of injury.
Sports physios like the team at Australian Sports Physiotherapy invariably work closely with athletes to ensure they get back on track as quickly as possible.
Why do you need physiotherapy for sports injuries?
If you've had minor sports injuries before, you may be under the impression that all a sports injury means is a couple of weeks sitting on the bench.
Unfortunately, this is not always the case.
As much as possible, see your medical professional regularly – they might notice something that could prevent an injury from happening in future sessions and competitions alike!
About 36,000 Australians are sent to the hospital every year as a result of a sporting injury. Some sports injuries can result in permanent weakness in joints or tendons, meaning a greater susceptibility to re-injury and even significant loss of functionality.
Don't wait to get injured before seeing a physio.
Conclusion
Sports physiotherapy can play a significant role in both injury treatment and prevention for athletes. Sports physiotherapists are highly trained in the diagnosis and management of acute sports injuries and 'prehabilitation' or injury prevention.
Sports physios like the team at Australian Sports Physiotherapy work closely with patients and athletes to ensure they get back on track as quickly as possible.