Are you experiencing knee pain that seems to be worse during physical activity or sports? You may suffer from Osgood-Schlatter disease (OSD), a common condition affecting adolescents and young adults.
The Osgood-Schlatter disease is caused by repetitive stress on the knee, leading to inflammation and pain in the area where the tendon meets the shin bone. It's a condition that can be both painful and frustrating, especially for young athletes who want to stay active and pursue their sports goals.
Fortunately, physiotherapy can help manage Osgood-Schlatter's disease and alleviate symptoms. Whether you're an athlete or simply looking to reduce knee pain, physiotherapy can help.
What is Osgood-Schlatter disease?
Osgood-Schlatter disease is an overuse ailment that occurs when the patellar tendon from the knee cap inserts onto the top of the shin bone (tibial tuberosity).
A muscle in an adult finishes in a tendon, which subsequently joins to the bone. Conversely, children continue to grow, and their tendons adhere to soft cartilage plates on the bone.
These cartilage plates are prone to severe pulling (traction) pressures, and a kid's discomfort when suffering from Osgood-Schlatters is caused by cartilage damage and inflammation.
It usually appears in children, boys aged 11-15 and girls aged 8-13:
Who is experiencing or has recently had a growth spurt.

Who participates in sports involving running and jumping.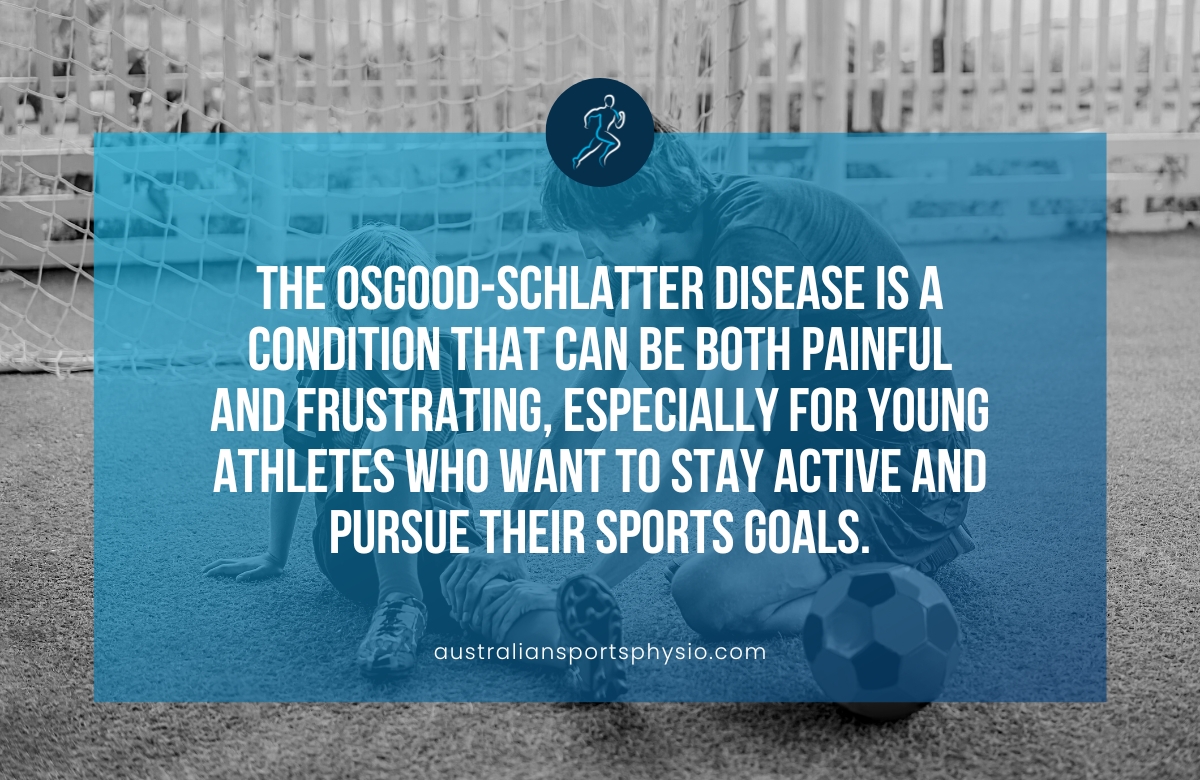 The stages of Osgood-Schlatter disease
A child's developing bones travel through many stages as they mature. This can be related to when they are most prone to getting OSD in the tibia or shin bone.
Cartilaginous stage: The tibial tuberosity is formed of cartilage at first.
Apophyseal stage: The tibial tuberosity produces a secondary ossification centre (apophysis).
The proximal tibial epiphysis stage: Joins the tibial apophysis at the epiphyseal stage.
The bony stage: Occurs when the growth plates join.
Common causes of Osgood-Schlatter disease
During the apophyseal stage, growing teenagers are most susceptible to acquiring OSD, especially if they engage in running and leaping sports that involve intense quadriceps muscular contractions. 
This puts a traction force on the tibial tuberosity, which could hypothetically damage the developing bone leading to OSD discomfort and swelling. However, the body's healing process could also result in new bone formation, sometimes resulting in an enlarged bone mass.
Moreover, a short quadriceps muscle compared to the femur bone can also cause OSD, particularly during an active growth spurt. This is because the lengthening femur develops faster than the lengthening quadriceps muscle.
Other biomechanical anomalies that a physiotherapist can detect can indirectly impact the risk of developing or successfully treating OSD.
Common symptoms of Osgood-Schlatter disease?
The tibial tuberosity is frequently swollen and painful in an Osgood-Schlatter lesion. When you get bumped, it aches. It also hurts when put under pressure, such as when kneeling. Running, jumping, climbing, and kicking may produce knee pain due to the stress of the patellar tendon tugging on the tibial tuberosity.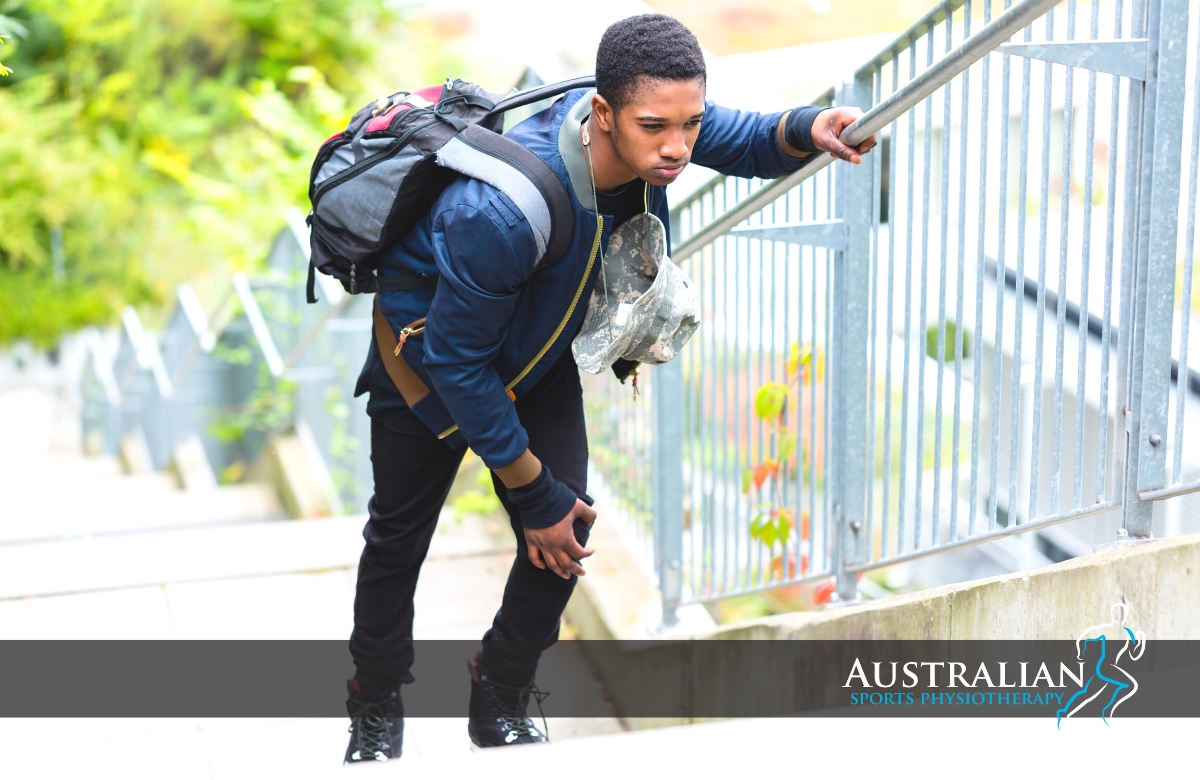 Physiotherapy treatment of Osgood-Schlatter disease
Physiotherapy management usually involves restricting exercises, sports or physical activity modification that induce pain, typically for a few weeks or months, until the pain and swelling subside.
After that, an experienced physiotherapist should oversee a strength-conditioning program.
If your child does not experience any significant pain or limp, it may be safe to continue participating in sports.
A typical physiotherapy program would begin with a baseline assessment of your child's:
Range of motion (ROM)

Functional pain levels

Functional balance

Lower extremity strength
Your physiotherapist can construct a focused exercise program based on the evaluation to treat Osgood-Schlatter disease effectively. The most effective treatment for Osgood-Schlatter disease is an exercise program that includes stretching, strengthening, and mobility exercises.
Although passive treatments such as heat, cold, or tape may feel pleasant, they do little to alleviate the underlying disease.
The majority of cases of Osgood-Schlatter disease are self-limiting and resolved without treatment. Those involving significant pain in the knee joint or limping may take 12 to 24 months to resolve completely.
Final thoughts on physiotherapy management for Osgood
If you happen to be experiencing Osgood-Schlatter disease, it is important to know that help is available.
Physiotherapy is a highly effective way to manage the symptoms associated with this condition and provide much-needed relief.
By working closely with a licensed physiotherapist and receiving a personalised treatment plan, you can experience reduced pain, increased mobility, and a return to the activities that bring you joy.
Book an appointment with one of our experienced physiotherapists today for a comprehensive assessment and customised treatment plan.