Have you recently experienced a shoulder ligament injury? Are you looking for effective ways to recover and regain full strength? Physiotherapy may be the answer you're seeking.
Shoulder injuries are common and can be caused by various factors, such as repetitive motion, overuse, or trauma. These injuries can significantly impact your daily life, limiting your range of motion and causing pain. However, proper treatment and rehabilitation can speed up your recovery and prevent long-term complications.
Physiotherapy plays a crucial role in the rehabilitation process for shoulder ligament injuries. By working with a skilled physiotherapist, you can receive personalised treatment plans and exercises to strengthen your shoulder, improve flexibility, and reduce pain.
Basic anatomy of the shoulder joint
Since the shoulder has the highest range of motion of any of our joints, it's no surprise that shoulder discomfort and injuries are both prevalent and excruciatingly painful.
The shoulder joint is composed of three major components:
The humerus (upper arm bone)

The clavicle (the collarbone)

The scapula (shoulder blade)
These bones, held together by muscles, tendons, and ligaments, allow us to perform daily movements. Because it is one of the most used areas of the body, it is more prone to injury, which is why it is critical to understand how to protect the shoulders and correctly treat shoulder pain and injuries.
What is a shoulder ligament injury?
Injuries to the tough, elastic tissues surrounding the shoulder that connect bones and stabilise the joint are known as shoulder ligament injuries. These ligaments connect the scapula, humerus, and clavicle bones that make up the shoulder complex.
The shoulder can become unstable if the muscles and ligaments that keep it together are strained beyond their usual limitations. Young people and athletes are prone to shoulder instability.
Common causes of a shoulder ligament injury
Shoulder injuries can happen in various activities, including tennis, cricket, and swimming. Pain and inflammation can occur when muscles, ligaments, or tendons do not perform well together or do not coordinate well.
Certain motions employed in tackling, throwing, pitching, or bowling can impose enormous stresses on the shoulder, causing the ligaments to overstretch. People express the sensation that their shoulder is loose or weak.
A shoulder subluxation or dislocation can occur when the ligaments become too lax or tear completely.
Falling onto an outstretched hand, a violent twisting motion, or contact with arms overhead are all common causes.
Common symptoms of a shoulder ligament injury
A shoulder ligament injury can cause heat, substantial inflammation, popping or cracking sounds, extreme discomfort, joint instability, and the inability to put weight or pressure on the joint.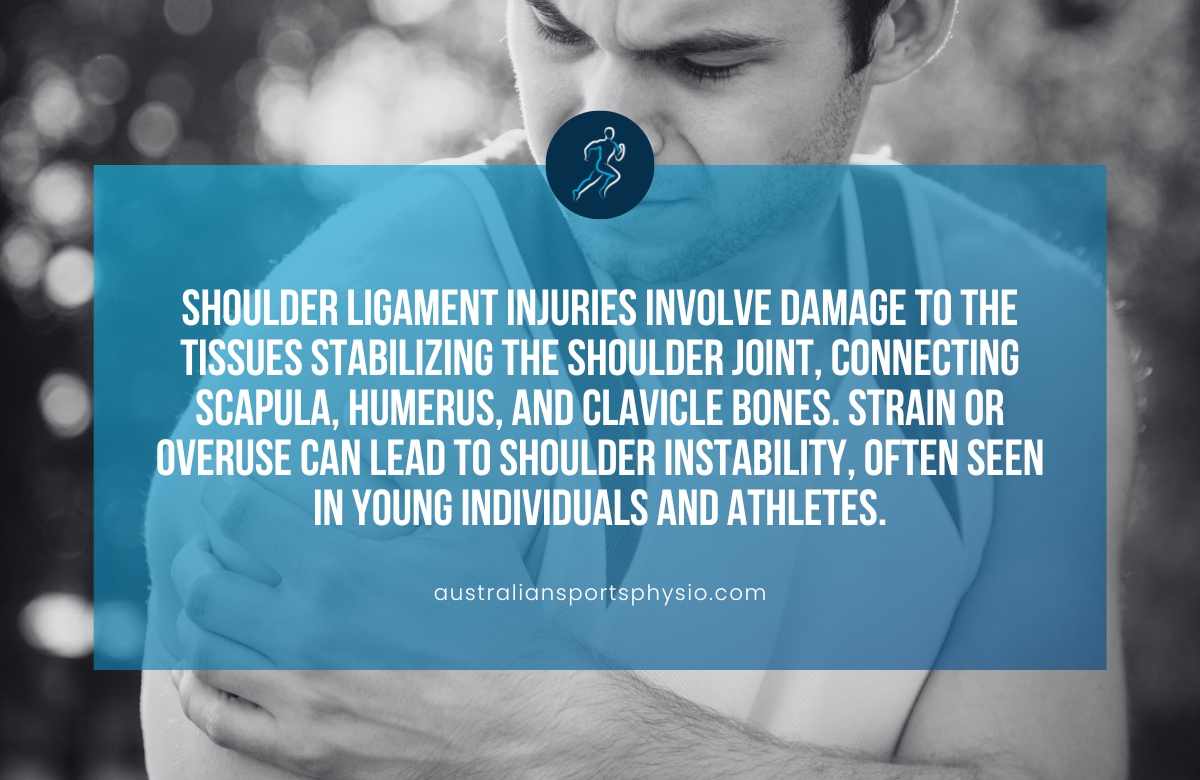 Physiotherapy treatment for a shoulder ligament injury
Minor shoulder injuries, if left untreated, can lead to long-term consequences.

Massage, trigger point release, shoulder joint mobilisations, tendon friction, postural and muscle balancing instruction, K taping, and stretching and strengthening exercises are common shoulder physiotherapy treatments.
Strengthening exercises are an essential part of shoulder rehabilitation. Multiple muscles surround the shoulder joint, including scapular stabilisers and rotator cuff muscles. These muscles are crucial for both shoulder mobility and stability. These muscles must be strong and coordinated to have a normal shoulder range of motion and to prevent micro-trauma to the shoulder joint.
Furthermore, shoulder muscular weakening is caused by discomfort and extended immobilisation following shoulder injuries such as fractures or surgery. As a result, shoulder strengthening exercises are essential to a shoulder rehabilitation program.
When to start physiotherapy for a shoulder ligament injury
When consulting a physiotherapist and starting rehabilitation for your shoulder pain, the sooner, the better. This is especially important if you feel you have an overuse injury, which often does not become apparent until the injury is severe. The longer you wait to treat a suspected shoulder injury, the worse it is likely to develop.
Receiving physiotherapy sooner rather than later can prevent your condition from worsening and lower the likelihood that you will require surgery.
Leaving an injury untreated for too long will always cost you more money in the long run because a more severe ailment will necessitate additional care and possibly surgery.
Furthermore, seeing an experienced physiotherapist will assist you in correcting any troublesome activities or habits you may have, allowing you to recuperate while successfully preventing future injuries.
How long does it take for ligaments to heal in the shoulder?
The severity of the injury largely determines the time it takes to heal fully. A minor or moderate shoulder ligament damage could take anywhere from two to eight weeks to heal.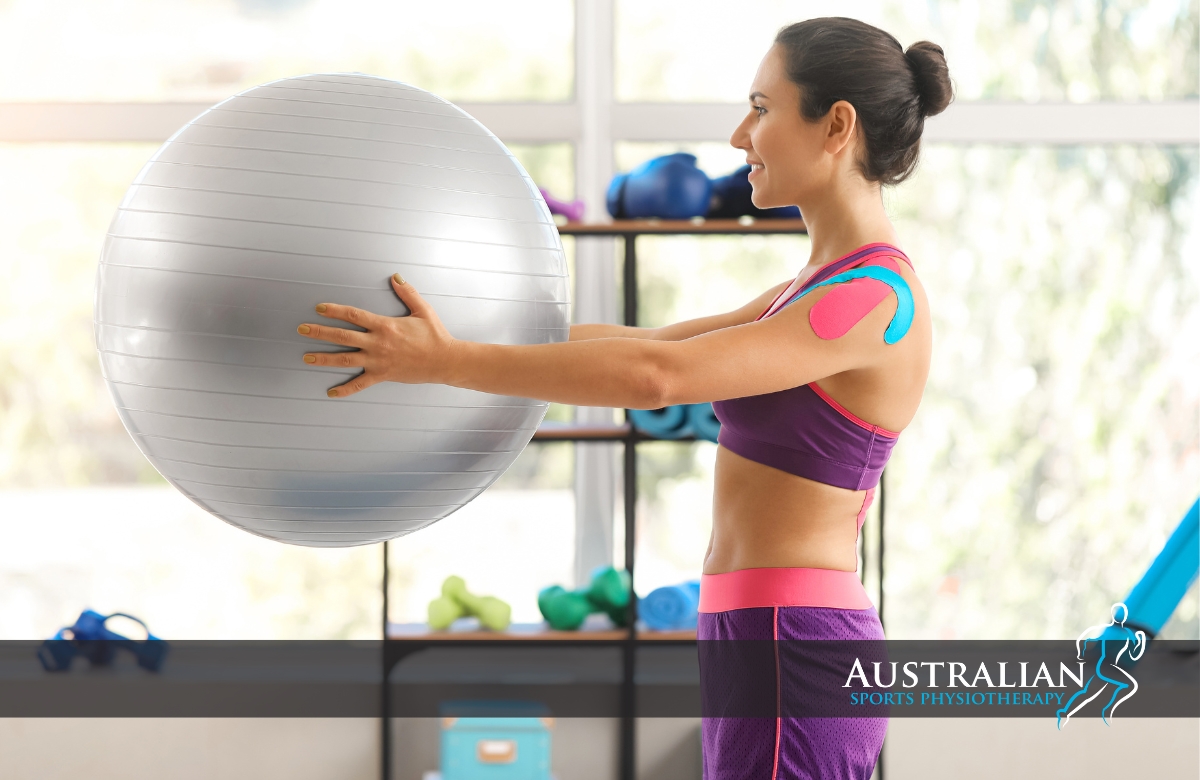 Final thoughts on physio for a shoulder ligament injury
Undergoing physiotherapy for a shoulder ligament injury is a necessary step towards recovery and a pathway to regaining strength, mobility, and confidence.
By working with a skilled physiotherapist and following a personalised treatment plan, you can overcome this setback and return to your daily activities with renewed vitality.
Book an appointment with one of our experienced physiotherapists today for a comprehensive assessment and customised treatment plan.