Ankle impingement is common when the ankle joint becomes inflamed or swollen, typically due to injury or repetitive stress. The pain associated with this condition can be severe and debilitating.
Athletes often suffer from ankle injuries because they play too much and don't give their ankles enough time off. If left untreated, these injuries can become chronic and cause long-term damage.
Fortunately, if you suffer from ankle impingement, physiotherapy can help!
What is an ankle impingement?
Ankle impingement is a painful limitation of ankle range of motion caused by a soft-tissue or bony abnormality. Soft-tissue impingement is caused by irritation to the fibres surrounding a joint (capsule) or the ligaments or cartilage of the joint, which may thicken over time.
On the other hand, bony impingement is caused by improper healing of an injury, which results in fibrosis (scarring) and osteophytes (bony fragments).
The soft tissues are trapped in both cases when the ankle is bent. Most impingement symptoms occur due to acute traumatic events, usually ankle sprains or minor injuries that accumulate over time from repetitive activities like running and jumping.
Two common types of ankle impingement
Anterior ankle impingement
This happens in the anterior (front) part of the ankle and is very common in athletes who do a lot of ankle dorsiflexion (bending up at the ankle joint), like soccer players, football players, dancers, gymnasts, and runners. These patients complain of pain over the front-outside aspect of the ankle, which is exacerbated by cutting and pivoting movements.
Posterior ankle impingement
This happens in the back of the ankle and is common in athletes who sustain forced plantar flexion (bending down at the ankle joint), but it can also be seen in runners and soccer players. It's also common in athletes with an accessory or extra bone in the back of the ankle, known as the os trigonum, which can lead to ankle capsule pinching. Typically these patients will complain of posterior heel pain.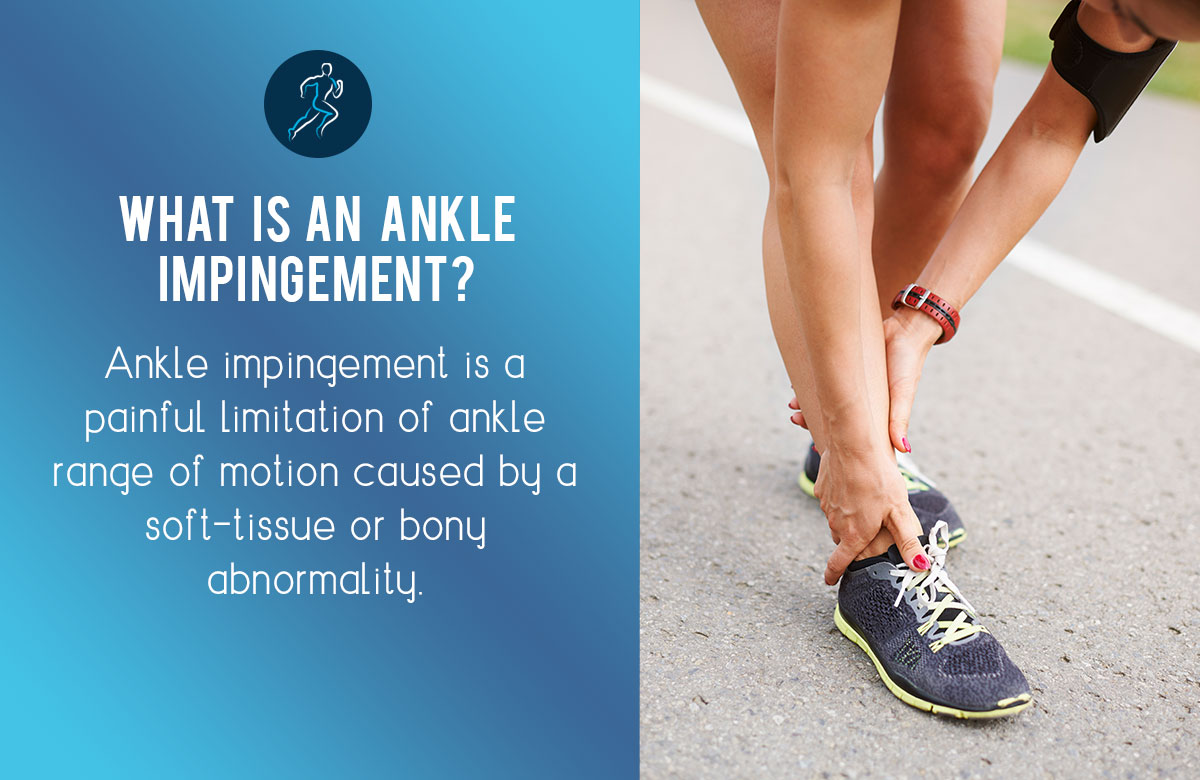 Common symptoms of ankle impingement
Ankle pain with certain motions.  In posterior impingement, it is when you point the toe down. In anterior impingement, it is when you bend the ankle up.

Ankle range of motion is restricted. When you stretch your toes up towards your shin, your ankle range of motion is reduced.

A bony bump or lesion on the inside or outside of the ankle.

Swelling of the ankles.

Ankle "clicking" or catching during specific movements

When resting, a dull ache in the front or back of the ankle.

Anxiety about ankle instability.

Increased front ankle pain when walking or running, especially when going uphill or on uneven terrain.

Increased pain in the back and ankles during the push-off phase of running, walking or jumping.

When touched, there is tenderness at the front of the ankle.
How long does it take an ankle impingement to heal?
Return to activity or sport varies from person to person, but athletes with simple cases can usually return within 4 to 6 weeks. The pain may take a little longer to go away completely, but this should not affect your ability to perform sports-specific activities. 
Ankle bracing, orthotic inserts, and shoe modifications may be beneficial for chronic cases.
Benefits of physiotherapy for ankle impingement
Exercise is an essential component of an ankle rehabilitation program. A well-balanced program will rebuild the strength, flexibility, and coordination required for pain-free use. The hope is that you can manage your symptoms conservatively, avoiding surgery such as arthroscopy. The advantages of ankle physiotherapy treatments are numerous, including:
Increased ankle range of motion without pain.

Preventing the formation of scar tissue.

A fully functioning foot, ankle, and lower leg strength for day-to-day activities.

Increased blood flow to accelerate healing and lessen swelling in nearby soft tissue.

Improved joint mechanics to increase ankle stability while reducing pain and unnecessary tissue irritation.

An improvement in overall quality of life.
How to avoid ankle impingement injury
No injury is ever entirely avoidable. However, there are some steps that active and at-risk people can take to reduce their chances of ankle impingement, such as:
When participating in physical activities, use proper technique.

Strength, mobility and stretching should be part of your core exercise regime regardless of sport.

The appropriate footwear (such as high-top shoes for basketball players) can improve ankle stability.

Take care to avoid overtraining; repetitive stresses are often responsible for ankle impingement.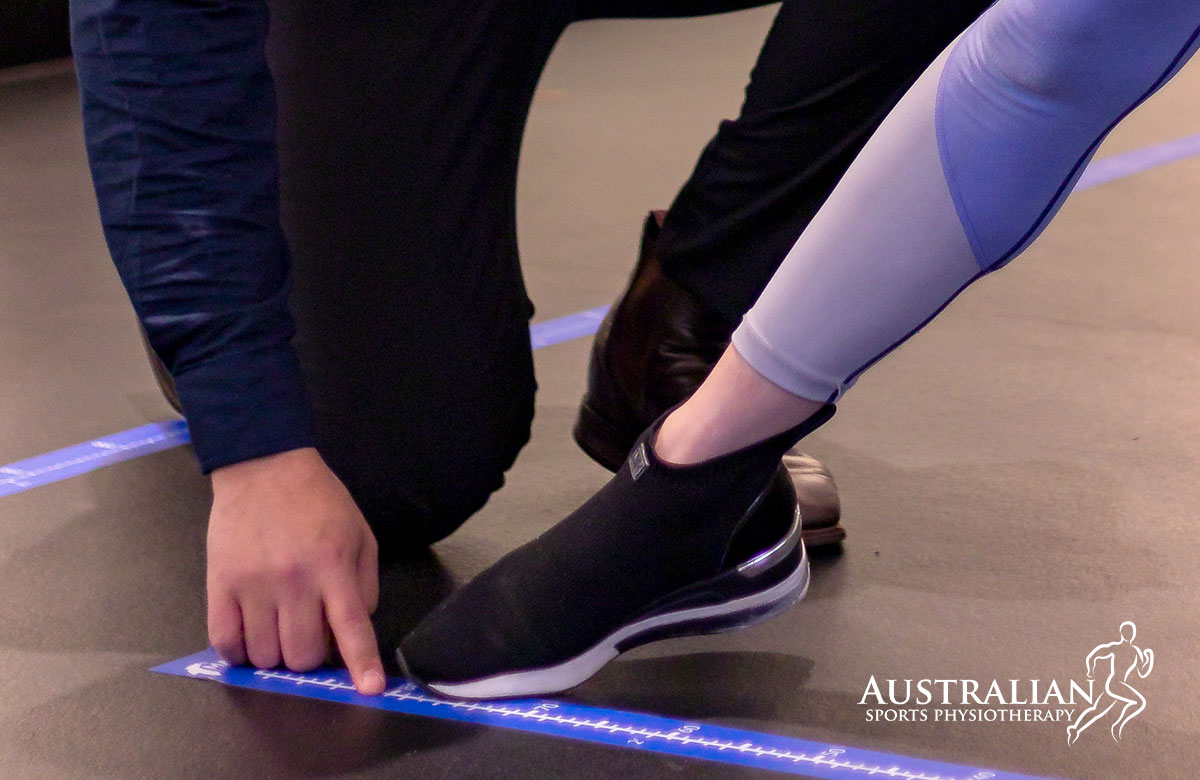 Final thoughts on Physiotherapy For Ankle Impingement
Physiotherapy can be an effective treatment for ankle impingement.
The exercises you will do in physiotherapy can help improve your ankle's range of motion and strength.
You will also learn to manage your symptoms to stay active and pain-free.
If you are suffering from ankle impingement, book an appointment with one of our experienced physiotherapists. We can help you get back on your feet again!