Are you an athlete or someone who regularly engages in physical activity? If so, you may know the frustrating and painful condition known as patellar tendonitis or jumper's knee. This common injury can significantly impact your performance and quality of life.
Patellar tendonitis is a condition that affects the tendon connecting your kneecap to your shinbone. It's a common injury among athletes, particularly those who engage in activities that require jumping and quick directional changes. While rest and ice can help alleviate symptoms, more severe cases may require professional intervention.
Sports physiotherapy is a popular and effective treatment option for patellar tendonitis. By addressing the root cause of the injury and providing tailored exercise and rehabilitation programs, sports physiotherapy can help you recover from jumper's knee and get back to your active lifestyle.
What is patellar tendonitis?
The patellar tendon is a powerful yet flexible band of tissue connecting the lower part of your kneecap to the upper section of your shinbone, allowing it to transfer force from the quadriceps muscles and thus straighten out your knees.
Patellar tendonitis, or jumper's knee, is an injury that produces tenderness or irritation of the patellar tendon. This critical ligament joins the tibia to the kneecap and provides vital support for your legs during activities such as jumping and running.
If the condition is neglected, it can ultimately cause deterioration of the patellar tendon and may even lead to tears.
Stages of patellar tendonitis
Stage 1: Pain only after physical activity.
Stage 2: Pain during activities, but still able to perform typically.
Stage 3: Pain that restricts activity.
Stage 4: Complete patellar tendon rupture necessitating surgical repair.
Common causes of patellar tendonitis
Constant activities like running, jumping, and repeatedly changing direction can strain the knee resulting in patellar tendonitis.
This type of injury is caused by excessive use of the knee joint and mainly occurs when a person does not give their body enough rest between exercises or sporting events.
Jumper's knee is a condition that can affect anyone, yet athletes who play sports with considerable amounts of jumping, like basketball or volleyball, are especially prone to it.
Other notable causes of patellar tendonitis
Leg muscles that are too tight.

Repetitive stress.

Uneven muscle strength in the legs.

Leg, foot, or ankle muscular imbalance.

Playing on hard terrain.

Jumping a lot.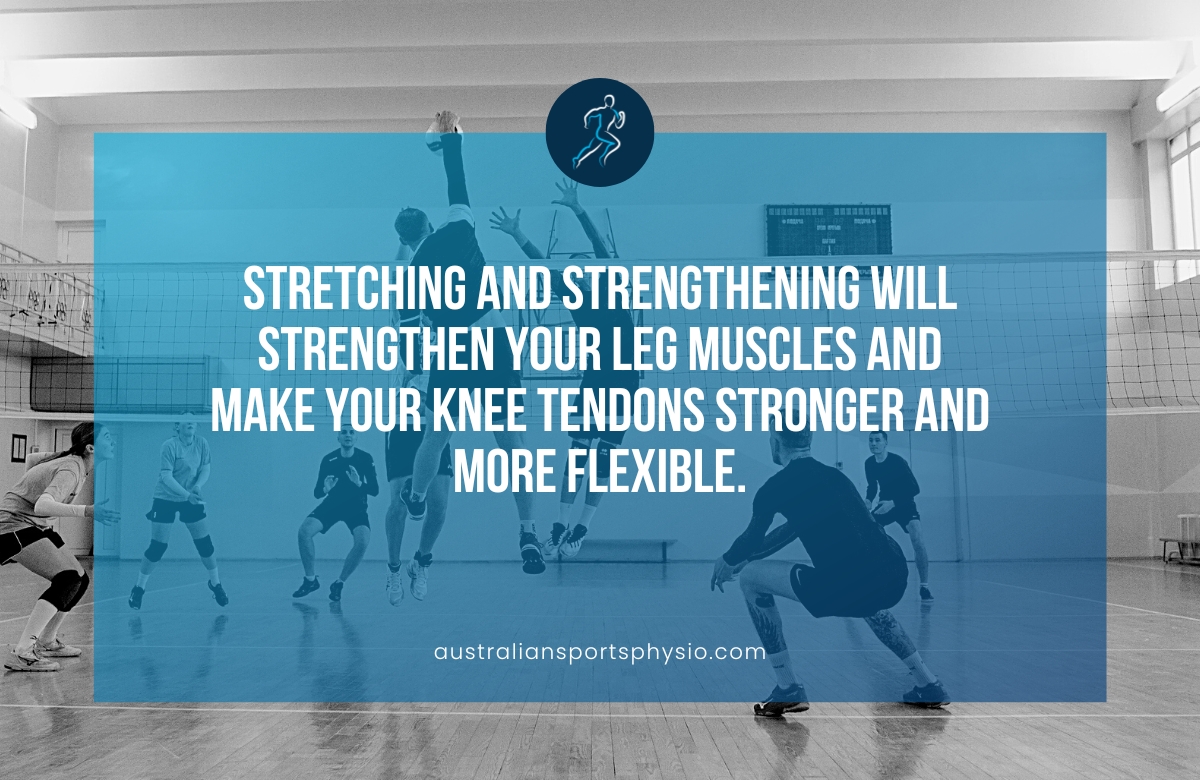 Symptoms of patellar tendonitis
Tenderness and pain between the kneecap and the shin are the most common symptoms of patellar tendonitis.
The area around your knee may be stiff or tight. Your knee joint may occasionally become swollen.
Initially, the pain is usually caused by exercise, and it worsens with continued activity.
As the condition worsens, you may notice that the pain starts to interfere with your daily activities, such as walking up and down the stairs or standing up from a seated position.
The following movements can aggravate your pain:
Jumping

Squatting

Running
Sports physiotherapy management for patellar tendonitis
Since physiotherapists treat patients through movement, your tendonitis specialist will likely teach you specific exercises and stretches to help heal your inflamed tendon.
Stretching and strengthening will strengthen your leg muscles and make your knee tendons stronger and more flexible.
Exercise is an essential part of treating patellar tendinopathy. Loading programs of various types have been proposed for the treatment of patellar tendinopathy, with the most common types being:
Eccentric loading

Eccentric-concentric loading
Eccentric loading has been the most widely used rehabilitation technique. However, evidence suggests that all loading programs are beneficial in terms of pain reduction and function restoration.
Your sports physiotherapist will also assess your posture and gait and analyse any biomechanical issues causing your patellar tendonitis. They will then recommend exercises to correct any imbalances and address any instability in the surrounding muscles and joints.
Can you fully recover from jumper's knee?
Typically, an injury can be recovered in just six weeks with the proper treatment approach for patellar tendonitis.
You can expect some relief from knee pain within 3 weeks, but it may take 6 weeks before you feel fully healed.
Yet full rehabilitation and recovery could take several months of physiotherapy sessions.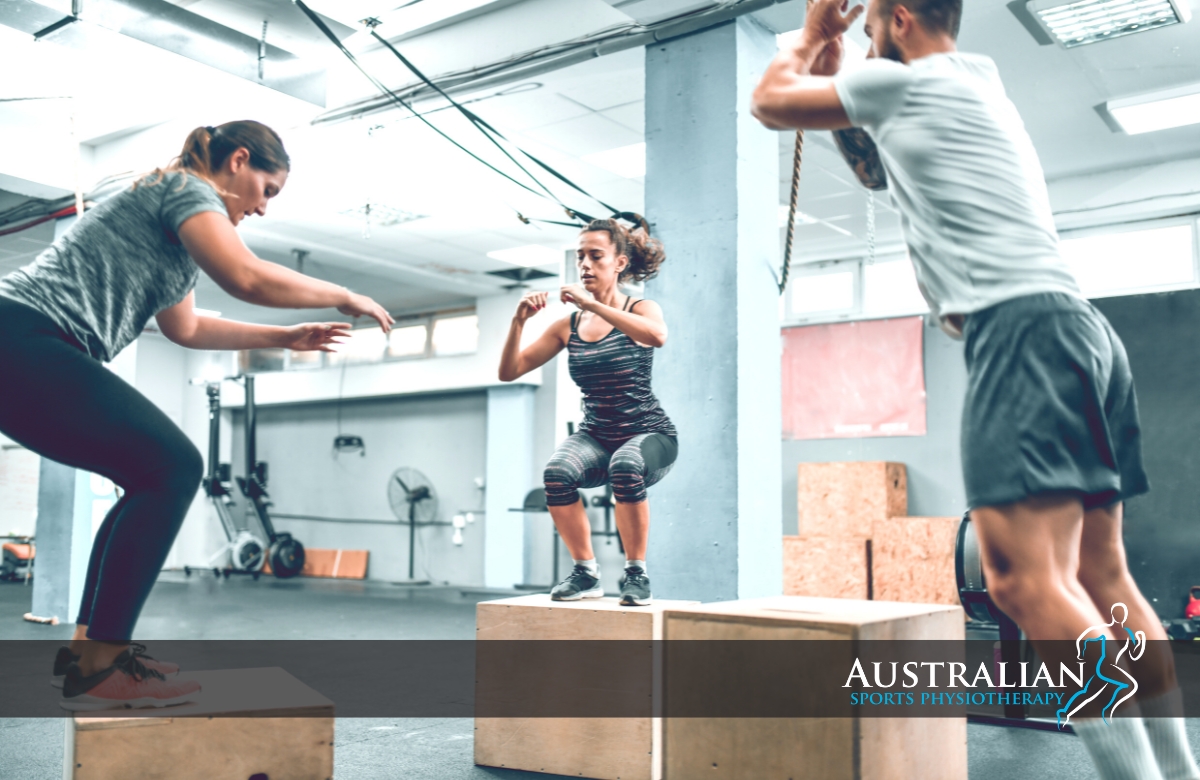 Final thoughts on sports physiotherapy treatment for patellar tendonitis (Jumper's Knee)
If you suffer from patellar tendonitis, don't let it keep you from doing what you love. With the help of a sports physiotherapist and the right treatment plan, you can get back to your active lifestyle and even prevent future injuries.
Remember, taking care of your body is critical to achieving your athletic goals, so don't hesitate to seek the care you need – seek out the help of a qualified sports physiotherapist today.
By addressing the root cause of the problem and implementing a tailored treatment plan, you can overcome this painful condition and get back to doing what you love.
Book an appointment with one of our experienced physiotherapists today for a comprehensive assessment and customised treatment plan.