Do you have a scaphoid fracture and are wondering how to recover properly? Physiotherapy may be the answer you're looking for. Scaphoid fractures are common injuries that can cause pain and limited mobility in the wrist, but with the proper treatment, you can regain strength and function.
Physiotherapy is a non-invasive and practical approach to treating scaphoid fractures. By working with a qualified physiotherapist, you can learn exercises and techniques to promote healing, reduce pain, and improve the range of motion in your wrist. In this article, we will explore the benefits of physiotherapy for scaphoid fractures and provide valuable information on how to incorporate it into your recovery plan.
Whether you have just been diagnosed with a scaphoid fracture or are already on your way to recovery, understanding the role of physiotherapy is crucial. With the proper guidance and commitment to your rehabilitation, you can achieve optimal healing and regain full use of your wrist. Let's delve into the world of physiotherapy for scaphoid fractures and discover how it can help you on your journey to recovery.
What is a scaphoid fracture?
The scaphoid bone is a significant carpal bone that helps you move and rotate your wrist. A scaphoid fracture is a break in the bone near the base of your thumb, right above the wrist.
If the fracture is not treated correctly, it can lead to long-term problems such as pain and decreased range of motion. It's essential to get a proper diagnosis and seek treatment promptly.
Common causes of a scaphoid fracture
Scaphoid fractures can be caused by various activities, including contact sports, falls or car accidents, and repetitive motion.
People who fall and land on their outstretched hand are most likely to suffer a fracture of the scaphoid bone.
Common symptoms of a scaphoid fracture
Symptoms of a scaphoid fracture may include pain in the wrist, swelling, tenderness to the touch, bruising, and limited mobility.
A scaphoid fracture usually causes pain on the thumb side of the wrist joint. Significant pain is generally felt when a bone is broken; however, in a fractured scaphoid, the pain may be milder, and the injury may feel more like a wrist sprain.
Similarly, compared to fractures of other bones, a scaphoid fracture typically does not create any visible deformity at the wrist and has minimal swelling. As a result, many people are unaware that they have broken their scaphoid.
If you suspect you have a scaphoid fracture, seeking medical attention as soon as possible is vital for proper diagnosis and treatment.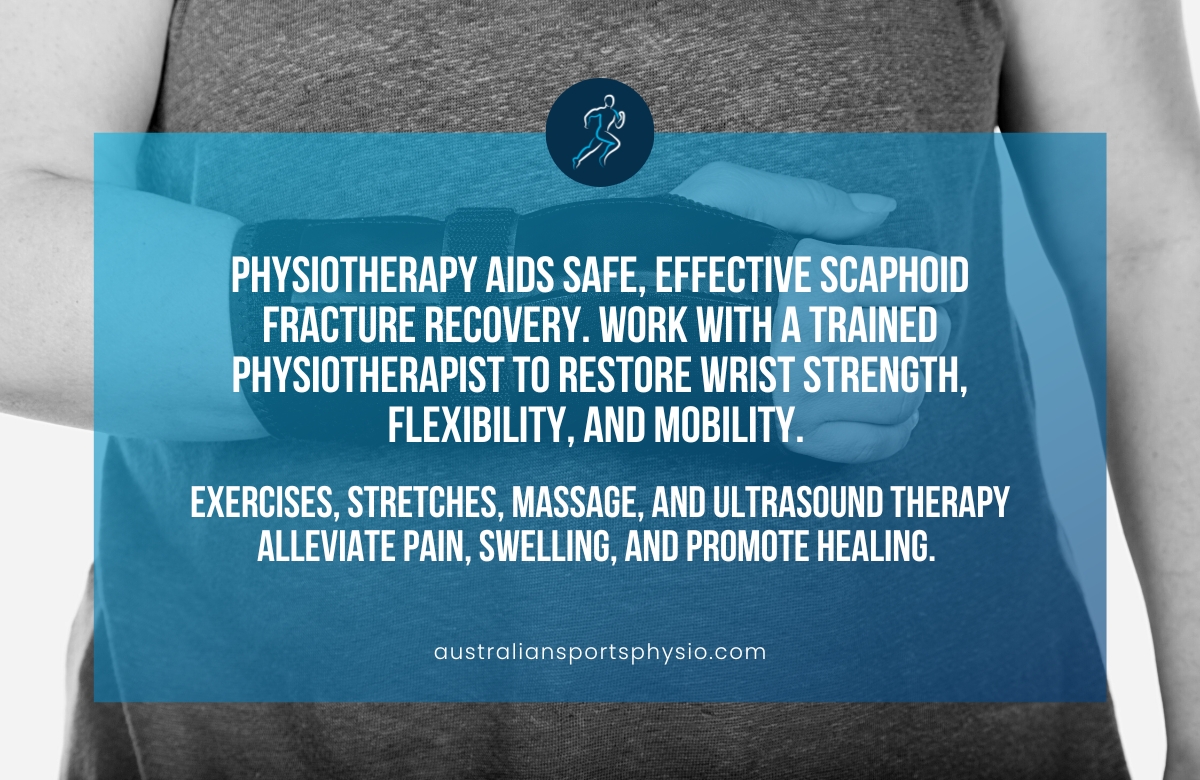 Physiotherapy treatment for scaphoid fractures
Physiotherapy is a safe and effective approach to treating scaphoid fractures. Working with a trained physiotherapist can help you regain strength, flexibility, and mobility in your wrist.
Physiotherapy treatments may include exercises, stretches, massage, and ultrasound therapy to reduce pain and swelling while promoting healing.
Incorporating physiotherapy into your recovery plan can reduce the risk of further injury and achieve better long-term outcomes.
Can a scaphoid fracture be cured with physiotherapy?
You must wear a splint or cast if you have a scaphoid fracture. This causes your joints to stiffen and your muscles to weaken. Although your range of motion and strength will eventually return as you use your wrist, without physiotherapy, your recovery will be delayed and often incomplete, predisposing you to further injury.
A physiotherapist will assess your condition and develop an individualised treatment plan to meet your needs. Initially, the focus will be on pain management and restoring range of motion.
Your physiotherapist will introduce exercises to strengthen the wrist and restore function as you recover.
Physiotherapy is critical for restoring your joint range of motion and muscular strength.
Your treatment plan may include stretching, massage, ultrasound therapy, or electrical stimulation to reduce inflammation and swelling while promoting healing.
Following your physiotherapist's instructions and practising the exercises regularly is essential to ensure a successful recovery and reduce the risk of further injury.
What is the fastest way to heal a scaphoid fracture?
Recovery from a scaphoid fracture may take longer than expected, and without proper rest, rehabilitation and physiotherapy treatment, the injury can often worsen. To ensure a successful recovery, following your doctor's instructions and any advice given by your physiotherapist is essential.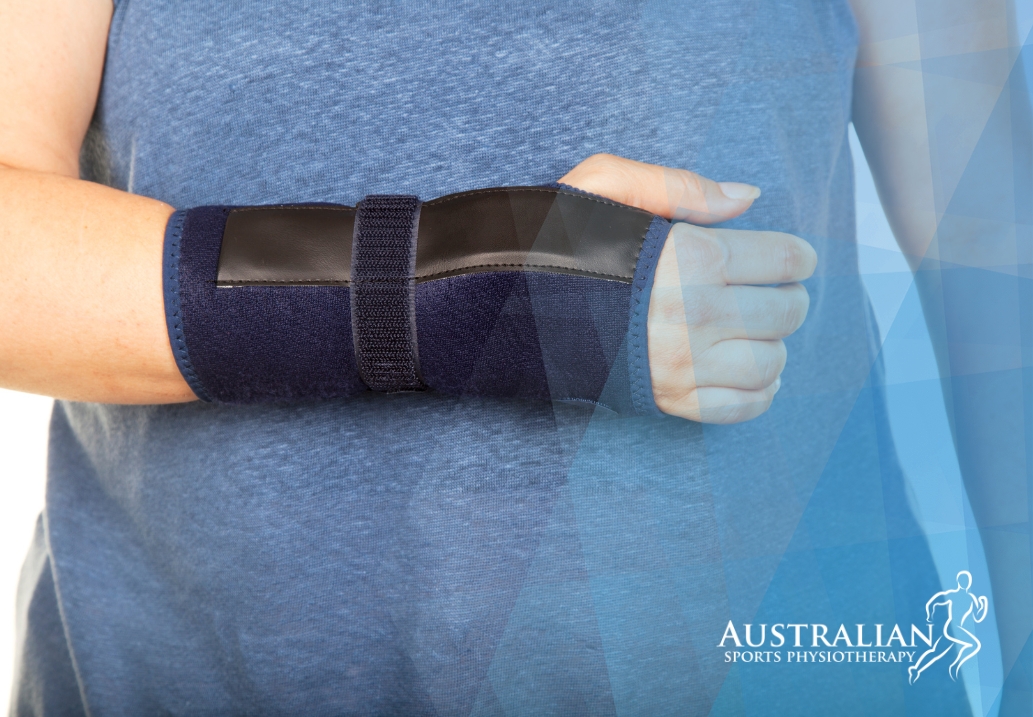 Final thoughts on physiotherapy for scaphoid fractures
As you progress in your rehabilitation, you will gradually introduce exercises to restore strength and mobility in the wrist. This may include simple range-of-motion, stretching, and strengthening exercises to increase muscle control around the joint.
Physiotherapy is an effective and non-invasive approach to treating scaphoid fractures. With the proper guidance and commitment, you can reduce pain, improve mobility, and regain strength in your wrist.
If you have been diagnosed with a scaphoid fracture, consult your doctor about incorporating physiotherapy into your treatment plan.
Book an appointment with one of our experienced physiotherapists today for a comprehensive assessment and customised treatment plan.