ACL injuries are a relatively common type of knee injury in athletes. They are most common in athletes who participate in pivoting sports such as basketball, AFL (Australian Football league) and Soccer, netball, downhill skiing, soccer, gymnastics, etc.
It occurs when the anterior cruciate ligament (ACL), one of your knee's major ligaments, is stretched or torn.
Contact and non-contact ACL injuries are common. Non-contact tears and ruptures are more common in non-contact situations when combined with valgus and internal rotation trauma.
They can range from minor tears or sprains to severe cases where the ligament is completely torn and can have long-term physical and psychological consequences.
What is an ACL tear?
The ACL is one of the significant bands of tissue (ligaments) that connect the femur (thigh bone) to the tibia (shin bone) at the knee joint.
Approximately half of all anterior cruciate ligament injuries occur in conjunction with damage to other structures in the knee, such as articular cartilage, meniscus, or other ligaments.
Ligament injuries are classified as "sprains" and are graded on a severity scale.
 A Grade 1

sprain causes mild ligament damage. It is slightly stretched but still capable of keeping the knee joint stable.

 

A Grade 2

sprain stretches the ligament until it becomes loose. This is commonly referred to as a partial ligament tear.

A Grade 3

sprain is a complete tear of the ligament and is the most common term for this type of sprain. The ligament has been severed, and the knee joint is unstable.
Anterior cruciate ligament partial tears are uncommon; most ACL injuries are complete or almost complete tears.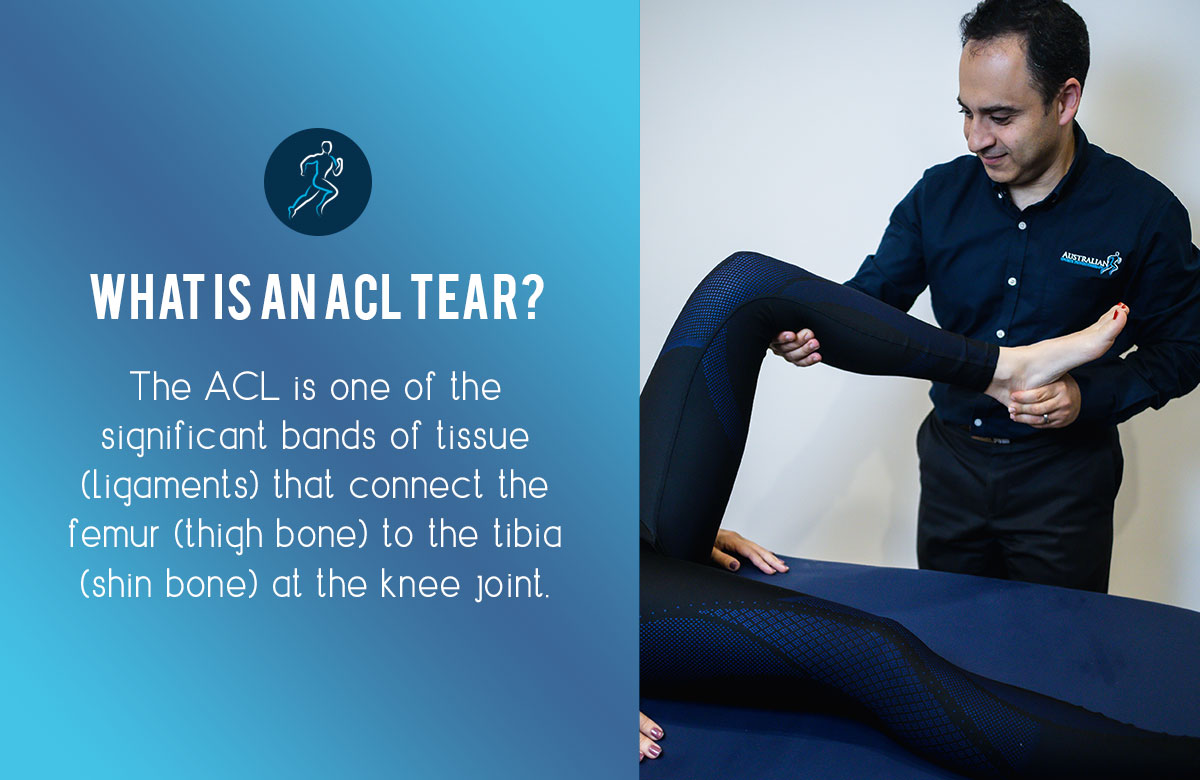 Common causes of an ACL tear
Stretch the knee beyond its normal range of motion.

Jump and land on a straightened (extended) knee.

Twist your knee while keeping your foot firmly planted.

A direct hit to the knee occurs.

Stop abruptly while running.

Shift your weight abruptly from one leg to the other.
Common symptoms of an ACL tear
Knee pain and swelling: After an ACL tear, your knee will swell. The swelling is typically quite significant and occurs quickly within hours of the injury. The pain is caused by joint swelling and the extent of the damage in and around the knee joint.

Loss of range of motion: Following an ACL tear, you may be unable to bend or straighten your knee as usual.

Instability of the knee: Pivoting or cutting movements, common in many sports, can cause the knee to become unstable or give way.

Walking causes discomfort.

Tenderness along the line of the joint.

When your anterior cruciate ligament is injured, you may hear a popping sound and feel a snapping sensation in your knee. This, however, does not happen to everyone.
Can ACL tear heal with physiotherapy?
Mild ACL tears can be managed with physiotherapy. In less severe cases, compression reduces swelling around the knee and mobilises the soft tissue to release muscle spasms that cause limited movement. Physiotherapy exercises are intended to strengthen the muscles that support the knee, particularly the upper leg muscles, the quadriceps (in the front) and the hamstrings (at the back). 
When should I start physio after ACL tear?
Physiotherapy treatment may include rest and rehabilitation exercises to help you regain strength and stability or surgery to replace the torn ligament followed by rehabilitation, depending on the severity of your ACL injury.
During the first week after surgery, your physiotherapist will assist you in regaining motion in the knee area and teach you gentle exercises that you can do at home. The emphasis will be on regaining full knee movement; in particular knee extension. The early exercises aid in increasing blood flow, which aids in the reduction of swelling.
If you did not have a meniscus repair, you could bear weight immediately after surgery. For the first two months, a range of motion of 0 to 140 degrees is a good target.
Which is the best training for the rehabilitation of the anterior cruciate ligament?
As the swelling subsides, a rehabilitation program is highly recommended. Sports physiotherapy rehabilitation includes specific exercises to reduce pain and swelling, restore full range of motion in your knee, and strengthen your leg muscles. 
Rehabilitation after ACL surgery is a long and extensive recovery that requires you to commit to a long term program in order to achieve optimal results. Your physiotherapist will guide you through every phase of your rehabilitation, and progress you through various stages as you improve.

Final thoughts on ACL Injury Physiotherapy
Physiotherapists are trained to assist patients suffering from ACL tears in reducing pain and swelling, regaining strength and mobility, and returning to their desired activities.
We are movement specialists who improve people's lives by providing hands-on care, patient education, and prescribed movement.
Do you believe you have an ACL injury? Book an appointment with one of our experienced physiotherapists today at Australian Sports Physiotherapy for a comprehensive assessment and customised treatment plan.