If you're like most people, you probably don't think about your neck until you start to experience pain. And even then, it's only after the pain becomes chronic that you really take notice. But what if there was a way to treat wry neck pain before it became a problem?
Believe it or not, physiotherapy is an excellent option for preventing and treating this condition.
What is wry neck?
Torticollis is a term that is sometimes used to describe wry neck. It is a neck condition characterised by damaged, stiff, or painful muscles and nerves. The muscles that surround the neck spasm, causing pain and limiting movement. With a wry neck, the top of the head tilts to one side, and the chin moves out to the opposite side.
Wry Neck is a prevalent condition that can be highly debilitating for those who suffer from it. People who suffer from this condition report that neck movement is excruciatingly painful.
On the plus side, physiotherapy treatment for wry neck can be very effective, with quick turnaround times.
What causes wry neck?
Several factors can cause wry neck, and it is critical that it be diagnosed before beginning treatment. It is usually caused by acute facet wry neck or discogenic wry neck.
A locked facet joint located at the back of your spinal column causes acute facet wry neck. Facet joints can become stiff due to injury, arthritis, or simply becoming stuck due to a sudden or unusual neck movement.
Acute facet wry neck is more common in younger patients (children to patients in their 30s) than in older patients. Facet wry neck symptoms appear gradually in older patients due to degeneration of the facet joints.
A cervical disc injury causes discogenic wry neck, which is often more gradual. Typically, the injured disc protrudes and presses against surrounding muscles and nerves, resulting in wry neck.
Although wry neck is usually a sudden injury, several risk factors may predispose you to it, which include:
Inadequate posture

Inadequate sleeping posture

Inadequate deep neck muscle strength and endurance

Muscles around the shoulder blade have poor strength and endurance.

Common symptoms of wry neck
Wry neck patients commonly report the following symptoms:
Acute facet wry neck
The pain is usually felt in the middle and side of the neck.

Sudden pain that appears out of nowhere.

In general, there is no pain beyond the shoulder.

Movement is limited, and your head/neck becomes "stuck" in an unusual position, frequently flexed forwards and away from the painful side.

Further spasms of surrounding muscles can also limit movement.

Headaches.
Discogenic wry neck
The onset of dull, diffuse pain is usually gradual.

Pain is typically felt in the lower neck, shoulder, and, on occasion, upper chest.

There may be pins and needles as well as pain radiating into the arm.

Movement is limited, but it is due to pain rather than a mechanical 'block' as in facet wry neck.

Patients frequently turn their heads away from the painful side.

Muscle spasm.

Numbness or even weakness in your arms and legs is possible, for further medical evaluation may be required.

Headaches.
Physiotherapy treatment for wry neck
Your physiotherapist may employ a variety of treatments, including:
Mobilisation of joints to improve joint function

Massage and soft tissue treatment are used to relieve muscle spasms.

Dry Needling.

Heat therapy.

Taping to relieve strain on the neck or shoulder blades.

Stretching and strengthening exercises at home that target the neck, shoulder blades, and overall posture.
The good news about acute facet wry neck is that your physiotherapist can usually help you "unlock" the neck with gentle mobilisations and quickly get you back to normal. A full recovery can generally be expected within a week.
Massage, taping, heat, and postural education will be used to treat discogenic wry neck, to reduce pain and muscle spasms.
Additional treatment aims to reduce any stress on the disc, mobilise any stiff spinal segments, and correct any muscle imbalances. While the initial symptoms may subside quickly, recovering from discogenic wry neck can take up to six weeks.
Addressing the underlying issues that may have contributed to your wry neck is critical. When a wry neck is left to resolve on its own, it can cause a stiffened segment or increase muscle tension, leading to recurrent episodes.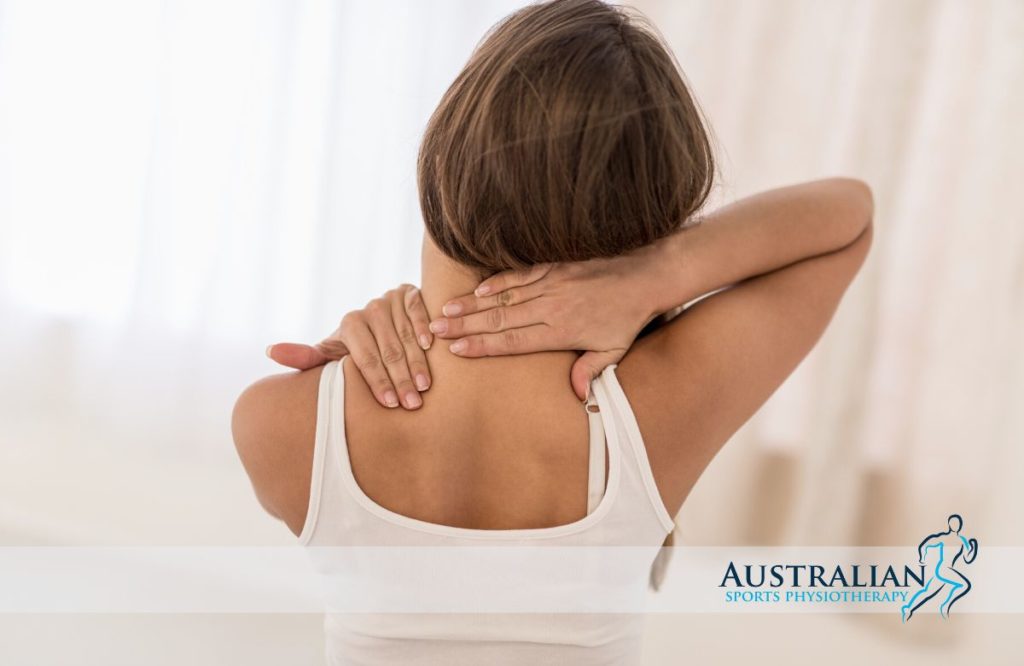 Final Thoughts on Physiotherapy For Wry Neck Pain
Physiotherapy is an effective way to treat wry neck pain. Physiotherapists use various techniques to help patients regain range of motion and muscle strength.
Physiotherapy will relieve your pain and keep your neck moving normally so that you can recover as quickly as possible.
There is no need to suffer in silence – we can help you get back to living your life.
Book an appointment with one of our experienced physiotherapists today for a comprehensive assessment and customised treatment plan.