Have you been experiencing pain, numbness, or tingling in your back, neck, or limbs? It could be a pinched spinal nerve. This condition can be excruciating and debilitating.
A pinched spinal nerve occurs when there is pressure or compression on a nerve root in the spine. Various factors, including herniated discs, bone spurs, or spinal stenosis, can cause this. It can affect people of all ages and can be caused by injury or degenerative conditions.
Fortunately, physiotherapy can be an effective treatment for a pinched spinal nerve. By working with a physiotherapist, you can develop a customised treatment plan that addresses your specific needs and helps to alleviate your symptoms. 
What is a pinched nerve?
When a nerve is pinched or entrapped, it can cause nerve damage, pain, and other symptoms. A pinched nerve is mainly caused by injury to structures near the nerve.
Nerves are most commonly crushed or pinched around the level of the neck or the low back. The sciatic nerve is the most well-known pinched nerve.
What causes a pinched nerve?
Low back discomfort is frequently caused by pinched nerves. Disc problems commonly cause actual pinched nerves. The discs are located between the bones of the spine and help to absorb shock and cushion the bones.
Because the nerves from the spinal cord exit the spine so near the discs, the disc's contents can impinge or contact the nerves and put pressure on them, resulting in a pinched nerve.
This can be compounded further by degenerative processes in the joints and bones, which cause them to expand and potentially squeeze the nerves as they depart the spine.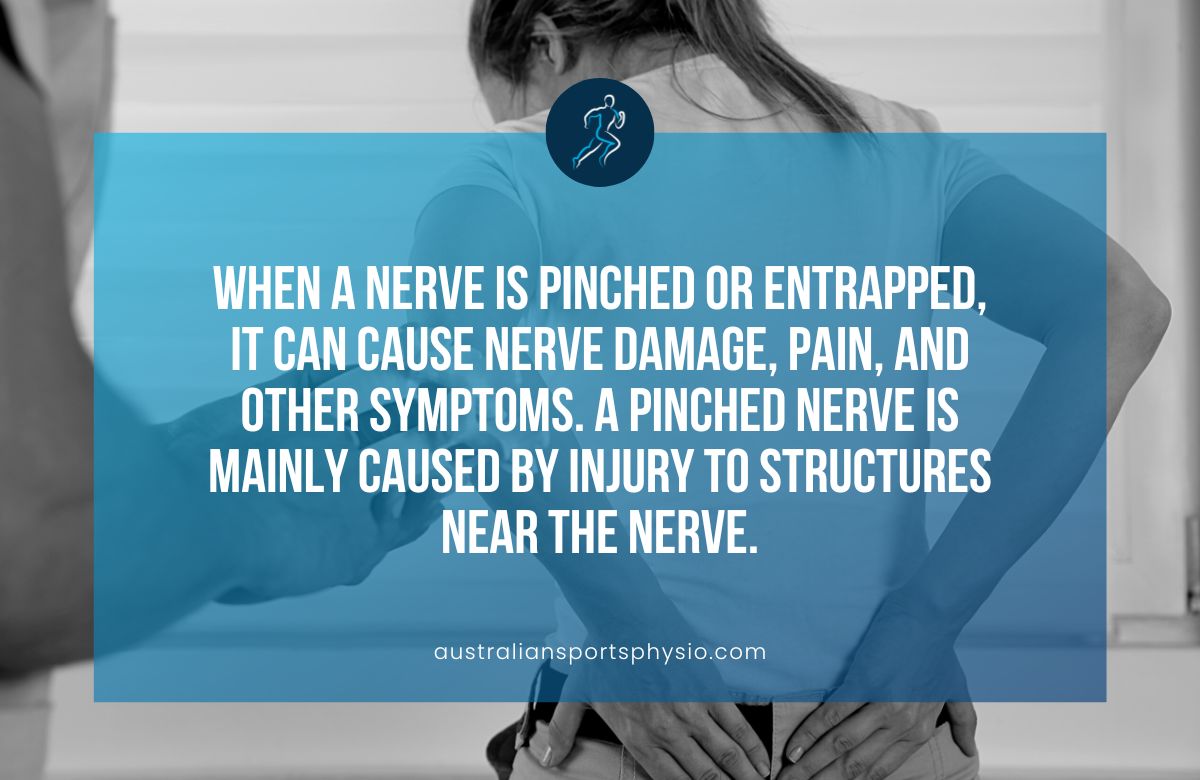 Common symptoms of a pinched spinal nerve
A severely pinched nerve will impair your nerve function and may result in the following:
Pain in the nerves. Nerve pain is frequently described as searing, stabbing, shooting, aching, or electric shock-like.

Altered sensation (

pins and needles

) or anaesthesia (

numbness

).

Muscle weakness.

Reduced reflexes.

Inability to use one's bladder or bowels.
These later symptoms may necessitate immediate medical intervention. The shorter the period your nerve is pinched, the better your outcome. Make contact with your physiotherapist as soon as possible.
Physiotherapy treatment for a pinched spinal nerve
Physiotherapy is an effective and non-invasive treatment option that can help relieve pain and other symptoms associated with a pinched spinal nerve. A physiotherapist can develop a customised treatment plan to target the underlying cause of your condition and help alleviate symptoms.
Physiotherapy aims to reduce nerve pressure by:
Reducing inflammation and swelling in the area (

e.g. through ice, heat or electrical stimulation

)

Strengthening muscles to improve posture and decrease compression on nerves

Stretching tight muscles or joints to alleviate tension on the nerves

Enhancing mobility can help ease nerve pain and improve overall function.
Your physiotherapy treatment may include other techniques, such as manual therapy, taping, joint mobilisation, dry needling, massage, or hydrotherapy, to reduce pain and improve mobility. These techniques can help increase your spine's range of motion and ease nerve pain.
Exercises or stretches may sometimes be prescribed to help strengthen weak muscles and improve posture. This can help provide better spine support and reduce nerve pressure.
Additionally, your physiotherapist may suggest lifestyle modifications to help prevent further nerve damage and improve your overall health. They can offer advice on ergonomics, posture, diet and stress management strategies to help reduce the symptoms of a pinched spinal nerve.
What are the long-term implications of a pinched nerve?
It is vital to understand that short-term compression (less than 3 – 4 weeks) is insignificant.
Generally, the condition will resolve with appropriate physiotherapy, and you can resume your normal activities. However, if nerve compression persists for more than 6 weeks, it can result in muscle weakness.
If the nerve is pinched for an extended period, the signals travelling down to the body can be severely disrupted, causing the muscle to stop working or the skin to become numb.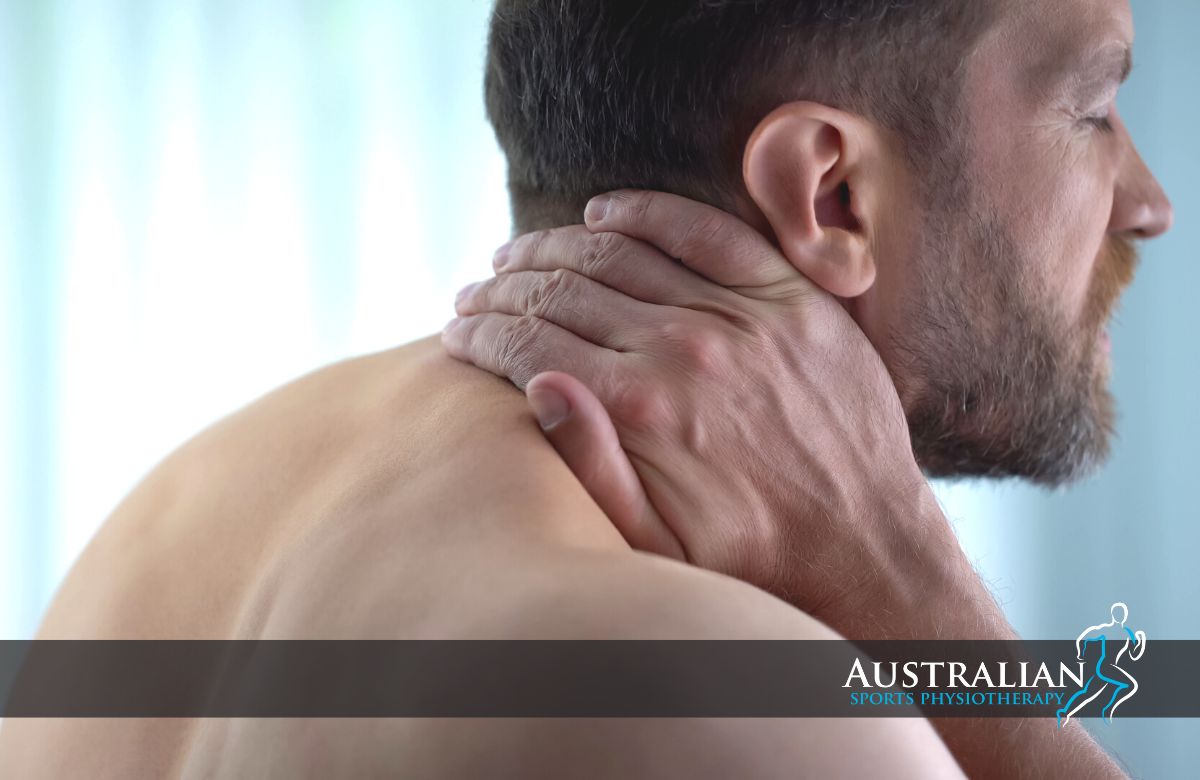 Final thoughts on physiotherapy for a pinched spinal nerve
Physiotherapy can be a game-changer if you suffer from a pinched spinal nerve. By addressing the root cause of the pain and providing targeted exercises and stretches, a physiotherapist can help you regain mobility, reduce discomfort, and improve your overall quality of life.
After your initial evaluation, your physiotherapist will develop a plan specifically for you. Following this as closely as possible is essential, even if the progress may initially seem slow.
Depending on the severity of your condition and the amount of inflammation present, it may take a few weeks for the symptoms to improve. With consistency and dedication to treatment, you can return to your life free of pain.
Don't suffer in silence – seek out a qualified physiotherapist today!
 Book an appointment with one of our experienced physiotherapists today for a comprehensive assessment and customised treatment plan.